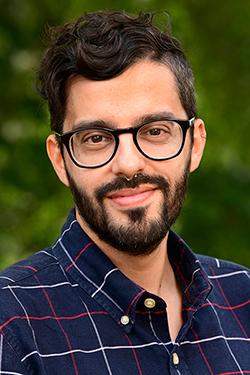 Carlos Guardia, Ph.D.
Stadtman Investigator
Reproductive & Developmental Biology Laboratory/Placental Cell Biology Group
NIEHS
Research Topics
Carlos M. Guardia, Ph.D. is head of the Placental Cell Biology Group and holds a secondary appointment in the NIEHS Signal Transduction Laboratory. The group explores basic science mechanisms to understand the effect of stressors present in the environment on human pregnancy, with a particular focus on placenta development, structure-and-function studies of placental specialized processes, and in vitro placenta modeling.
Despite its essential role in fetal growth, the human placenta remains one of the least understood organs. Placentas that develop and function under stress are prone to cause serious pregnancy complications. Thus, autophagy mechanisms are in place to protect the placenta and promote its normal development and function. Failure or dysregulation of these pathways could explain the origin of several placental disorders, but also provide a window for new therapies.
The group's work also brings awareness of the racial and economic disparities behind the alarming rates of maternal mortality: African American women are dying from preventable pregnancy-related complications at three to four times the rate of non-Hispanic white women, while the death rate for African American infants is twice that of infants born to non-Hispanic white mothers. Knowledge of this disparity is part of what drives and motivates the group's research.
Major areas of research:
Effects of the environment on placenta development and the role of the placenta in the Developmental Origin of Health and Disease (DOHaD).
Development of new technologies to study placenta development in vitro.
Placental-specific autophagy processes and the connection with the secretory pathway during development, function, and disease.
Current projects:
Mechanisms of cargo-loading of placental extracellular vesicles (EVs).
Molecular mechanisms of regulation of the secretion of hormones during placental development and pregnancy.
Study of autophagy-specific placental cell functions in normal and pathological pregnancies.
Biography
Guardia earned his Ph.D. in Structural Biology from the University of Buenos Aires, Argentina in 2014, and then completed his postdoctoral training in Cell Biology at the Eunice Kennedy Shriver National Institute of Child Health and Human Development, under the supervision of Senior Investigator Juan S. Bonifacino, Ph.D., in 2021. During this time, Guardia conducted research on the mechanisms of lysosome movement and autophagy initiation using a multidisciplinary approach involving biochemistry, multi-"omics" tools, and several microscopy techniques, such as super-resolution fluorescence and cryo-electron microscopy. He became an NIH Stadtman Tenure-Track Investigator and a NIH Distinguished Scholar in December 2021 and joined NIEHS to establish his independent research program.
Related Scientific Focus Areas
This page was last updated on Wednesday, August 24, 2022