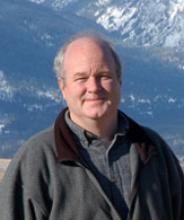 Byron W. Caughey, Ph.D.
Senior Investigator
TSE / Prion Biochemistry Section
NIAID/DIR
Rocky Mountain Laboratories
Building 2, Room 2106
903 South 4th Street
Hamilton, MT 59840
406-363-9264
Research Topics
Major Areas of Research
TSEs (prion diseases)
Prion structure, amplification and detection, and disease prevention and therapeutics
Prion protein functions and cell biology
Protein-folding diseases
Biography
Dr. Caughey received his Ph.D. in biochemistry from the University of Wisconsin-Madison in 1985 and completed postdoctoral studies in pharmacology at Duke University Medical Center from 1985 to 1986. He has conducted TSE/prion research in the Laboratory of Persistent Viral Diseases since 1986. He became a tenured senior investigator in 1994. Dr. Caughey is also an editor for the Journal of Virology and a Fellow of the American Academy of Microbiology.
Related Scientific Focus Areas
---
This page was last updated on August 9th, 2019