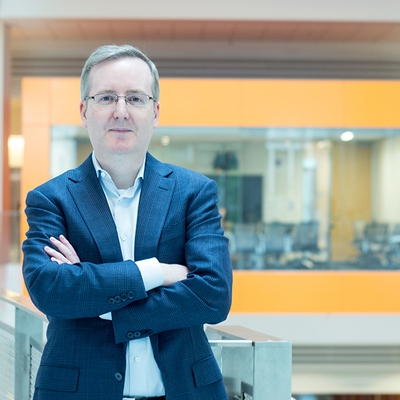 Bryan Joseph Traynor, M.D., Ph.D., M.M.Sc, M.R.C.P.I
Senior Investigator
Laboratory of Neurogenetics
NIA
Building 35, Room 1A1000
35 Convent Drive
Bethesda, MD 20814
301-451-7606
Research Topics
Dr. Traynor is best known for his work aimed at understanding the genetic etiology of ALS. In 2011, he led the international consortium that identified a pathogenic hexanucleotide repeat expansion in the C9ORF72 gene as the underlying mutation in a large proportion of ALS and frontotemporal dementia (Neuron 2011). His team also identified the same mutation in ~1% of patients clinically diagnosed with Alzheimer's disease (NEJM 2012).
Other notable achievements of his laboratory include the first genome-wide association study of ALS (Lancet Neuro 2007); identification of the chromosome 9p21 association signal for ALS in the Finnish founder population (Lancet Neuro 2010); and discovery of mutations in the VCP and MATR3 genes as a cause of familial ALS (Neuron 2010, Nature Neuroscience 2014).
Dr. Traynor has over 160 publications in various professional journals including New England Journal of Medicine, Nature, Nature Genetics, Nature Neuroscience, Neuron, Annals of Neurology, Lancet Neurology, and Proceedings of the National Academy of Sciences (PNAS). He is a member of various grant review committees including the Scientific Review Committee of The ALS Association, the Integration Panel for the Congressionally Directed Department of Defense Alzheimer's Disease Research Programs, and the Genetics of Health and Disease NIH Study Section. He also chairs the Integration Panel for the Congressionally Directed Department of Defense ALS Research, and is an editorial board member for the Journal of Neurology, Neurosurgery, and Psychiatry and Neurobiology of Aging.
Dr. Traynor is the recipient of the NIA Director's Award (2011), the NIH Director's Award (2012), the John W. Griffin Innovator Award (2012), the Derek Denny Brown Neurological Scholar Award (2012), the Sheila Essey Award for ALS Research (2013) and the Diamond Award (2013).
Biography
Dr. Bryan J. Traynor is a Neurologist and a Senior Investigator at the National Institute on Aging. He has been the Chief of the Neuromuscular Diseases Research Section at the Laboratory of Neurogenetics since 2009. His laboratory is focused on unraveling the genetic etiology of amyotrophic lateral sclerosis (ALS, also known as Lou Gehrig's disease) and other neuromuscular disorders.
Dr. Traynor received his medical degree (MB, BCh, BAO) in 1993, his Medical Doctorate (MD) in 2000, and his Doctor of Philosophy (PhD) in 2012, all from his Alma mater University College Dublin. He also received a Masters in Medical Science (MMSc) from Harvard University and Massachusetts Institute of Technology in 2004. He has been a Member of the Royal College of Physicians of Ireland (MRCPI) since 1996 and an elected Fellow of the American Neurological Association since 2012.
Dr. Traynor's academic history includes: Internal Medicine Residency at St. Vincent's University Hospital, Dublin; Neurology Residency and Fellowship at the National Neuroscience Center of Ireland, Beaumont Hospital, Dublin. He moved to Boston in 1999, where he was a Neurology Resident, an ALS/Neuromuscular Fellow, and an Instructor and Staff Neurologist at Harvard Medical School and Massachusetts General Hospital. He then moved to National Institutes of Health, Bethesda, in 2005, where he has been a Clinical Associate, Assistant Clinical Investigator, Investigator, and is currently a tenured Senior Investigator from 2014 to present. He has also been an adjunct faculty member of the Neurology Department at Johns Hopkins, Baltimore since 2006.
Related Scientific Focus Areas
---
This page was last updated on August 12th, 2020