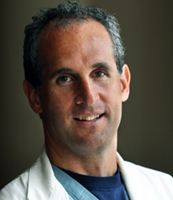 Bradford Wood, M.D.
Senior Investigator
Center for Interventional Oncology
NIH Clinical Center
Research Topics
Dr. Bradford Wood is Chief of IR and directs a multi-disciplinary team (NIH Center for Interventional Oncology) that develops and translates devices, software, and navigation approaches for cancer patients via novel local and regional minimally-invasive image-guided therapies.
Dr. Wood is the founding Director of the NIH Center for Interventional Oncology, which translates technologies and paradigms for first-in-human treatments for cancer and cultivates interventional radiology applications within a multi-disciplinary framework, to apply biomedical engineering to meet real-life unmet clinical needs. His team's achievements include helping to pioneer several technologies from concept to bench to patient, and was "first- -in-human" for the following device/drug combinations: prostate cancer MRI/TRUS fusion biopsy and ablation, image-able iodinated drug eluting beads for chemoembolization of liver tumors, kidney cancer ablation, adrenal cancer ablation, heat-deployed nanoparticle chemotherapy with thermal ablation for liver cancer, electromagnetic tracking for fusion of ultrasound to CT, MR, and PET, and fusion for biopsy and ablation.
His team's research relies upon multi-disciplinary team science within multiple institutes and international public-private partnerships. His team has mentored hundreds of students, fellows, physicians, nurses, and scientists. His teams have authored 50 patents, books on radiology and interventional urology, and co-authored more than 500 peer-reviewed manuscripts, with an H-index of 84, including JAMA, NEJM, Nature Communications, Science, Lancet, Blood, Chest, Cancer, JCO, CCR, JAMA Oncology, Hepatology, Medical Physics, and Scientific Reports.
Teamwork breeds team success.
Biography
Dr. Wood earned both his undergraduate and graduate degrees from the University of Virginia, then completed an internship in internal medicine, followed by a residency in diagnostic radiology at Georgetown University, where he was Chief Resident. He went on to do double fellowships at Massachusetts General Hospital at Harvard in abdominal imaging and intervention and vascular & interventional radiology, and stayed on staff at Massachusetts General Hospital / Harvard after training. He is board-certified in vascular and interventional radiology as well as in diagnostic radiology. Wood has practiced interventional radiology at NIH since 1998, when he was recruited from Harvard/Massachusetts General Hospital. He has directed the Interventional Radiology Research Lab from 2004 to the present, and was Acting Chief of Radiology-Science and Research, and Acting Director of the Molecular Imaging Lab from 2006 to 2008. He holds appointments in several NIH institutes, including the NIH Clinical Center and the National Cancer Institute, Urological Oncology Branch, and is credentialed in surgery and radiology. He has received both the Clinical Center Director's Award and the NIH Director's Award, and has published widely in the field of interventional radiology and the emerging discipline of interventional oncology.
Related Scientific Focus Areas
This page was last updated on Friday, September 1, 2023