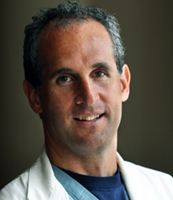 Bradford Wood, M.D.
Senior Investigator
Center for Interventional Oncology
NIH Clinical Center
Building 10, Room 1C341
10 Center Drive
Bethesda, MD 20892
301-496-7739
Research Topics
Dr. Wood has pioneered several technologies from the bench to the patient now in widespread use, including "medical GPS" electromagnetic (EM) tracking for needle-based procedures like biopsy and thermal ablation; smart needles and devices for minimally invasive, multi-modality, image-guided procedures; and MRI + ultrasound fusion for office-based prostate biopsy, which markedly improves cancer detection rates. His translational research interests include fusion and navigation tools; image guided prostate cancer diagnosis and focal therapies; minimally-invasive and image-guided tumor ablation tools and treatment planning; drug + device combination therapies; heat deployed nanoparticles activated with needles or ultrasound GPS-enabled medical and surgical devices; image-able drugs (drug eluting beads and liposomes); image-guided robotics, and HIFU for non-invasive ablation or "drug paint-brushing" of chemotherapy; and augmentation of immunotherapies with thermal ablation. NIH and Dr. Wood have multiple patents in the field, often with CRADA industry partners, as part of public-private partnerships. He was among the first physicians to postulate or perform a variety of approaches, including: radiofrequency ablation for kidney and liver tumors in humans in the mid-1990's; ablation devices plus heat-deployed drugs for liver tumors; guide ablation and biopsy with "GPS-enabled" devices; combined MRI and ultrasound for fusion-guided prostate biopsy; "Medical GPS" fusion-guided ablation and biopsy; and RF ablation for patients with pheochromocytoma, lymphoma, adrenocortical carcinoma, liver abscess, chordoma, and intractable hematuria. He postulated and implemented bench to bedside Phase I trials of heat-deployed chemotherapy combined with thermal ablation for liver cancer (heat sensitive liposomal doxorubicin), which is currently in Phase III evaluation. He is actively involved in the Society of Interventional Radiology and the Radiological Society of North America, and manages numerous government-academic-industry partnerships. He serves on the editorial boards of Interventional Oncology and the Journal of Therapeutic Ultrasound, is on the Board of Directors of the Academy of Radiology Research, and has close collaborations with Duke University, Johns Hopkins University, Harvard/Massachusetts General Hospital, Georgetown University Medical Center, Utrecht Medical Center, Eindhoven University of Technology, Children's National Medical Center, and Innsbruck Medical University. Wood has published extensively in the field, coauthoring a book on radiology, more than 200 manuscripts and chapters, hundreds of scientific abstracts, and numerous patents or patent applications.
Biography
Dr. Wood earned both his undergraduate and graduate degrees from the University of Virginia, then completed an internship in internal medicine, followed by a residency in diagnostic radiology at Georgetown University, where he was Chief Resident. He went on to do double fellowships at Massachusetts General Hospital at Harvard in abdominal imaging and intervention and vascular & interventional radiology, and stayed on staff at Massachusetts General Hospital / Harvard after training. He is board-certified in vascular and interventional radiology as well as in diagnostic radiology. Wood has practiced interventional radiology at NIH since 1998, when he was recruited from Harvard/Massachusetts General Hospital. He has directed the Interventional Radiology Research Lab from 2004 to the present, and was Acting Chief of Radiology-Science and Research, and Acting Director of the Molecular Imaging Lab from 2006 to 2008. He holds appointments in several NIH institutes, including the NIH Clinical Center and the National Cancer Institute, Urological Oncology Branch, and is credentialed in surgery and radiology. He has received both the Clinical Center Director's Award and the NIH Director's Award, and has published widely in the field of interventional radiology and the emerging discipline of interventional oncology.
Related Scientific Focus Areas

---
This page was last updated on September 8th, 2020