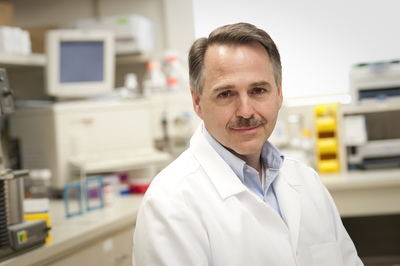 Barry R. O'Keefe, Ph.D.
Senior Scientist
Molecular Targets Program
NCI/CCR
Building 576, Room 101 Frederick, MD 21702-1201
301-846-5332
Research Topics
Our research efforts are generally split into two study areas: 1) cell-free assay development and identification of active compounds from chemical and natural product libraries, and 2) the isolation and characterization of antiviral proteins from natural product extracts. In the first, our goals are to understand and define specific protein-ligand interactions and use that knowledge to adapt laboratory findings into both high-throughput screens and potential therapeutic discoveries. In the second, we carry out independent research on the discovery and characterization of novel antiviral proteins from natural products extracts. This research is necessarily multidisciplinary and collaborative both within the Molecular Targets Program, as well as the NCI, the NIH and with extramural collaborators interested in our scientific discoveries. Our group uses its expertise in protein chemistry, enzymology, molecular biology, natural products research and assay development to identify, isolate and biochemically characterize new bioactive moieties.
Biography
Dr. O'Keefe earned a Bachelor of Science degree in botany from Michigan State University and a Ph.D. in pharmacognosy from the University of Illinois at Chicago. In 1994 Dr. O'Keefe joined the NCI Laboratory of Drug Discovery Research and Development to study novel proteins from natural products extracts. Dr. O'Keefe is currently Director of the Molecular Targets Program and Head of the Protein Chemistry and Molecular Biology Section. Dr. O'Keefe is also Chief of the Natural Products Branch, Developmental Therapeutics Program, Division of Cancer Treatment and Diagnosis, NCI.
Related Scientific Focus Areas
---
This page was last updated on April 6th, 2022