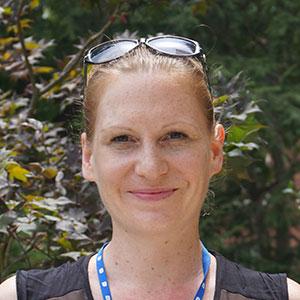 Astrid Desiree Haase, M.D., Ph.D.
Senior Investigator
RNA Biology Section, Laboratory of Cell & Molecular Biology
NIDDK
Research Topics
We aim to understand how small non-coding RNAs guard genomic integrity.
Current Research
Small non-coding RNAs play crucial roles in development and disease by regulating gene expression, defending against viruses, and controlling mobile genetic elements (transposons) through conserved small RNA silencing pathways. These pathways have been adapted for biotechnology, and provide new avenues for targeted therapy. Our research specifically focuses on PIWI-interacting RNAs (piRNAs), which silence transposons to safeguard the integrity of germline genomes. PIWI-piRNA complexes act as RNA-guided defense mechanisms that are crucial for germ cell health and fertility. To better understand the intricate molecular mechanisms of this RNA-based immune system, we employ an integrated approach that combines genetics, biochemistry, and next-generation sequencing. Although recent progress has provided a framework for comprehending this small RNA-based immune system, further research is necessary to uncover the complex molecular innovations that facilitate the selective silencing of transposons and distinguish these elements from host genes. Our successful achievement of research goals will expand our understanding of the fundamental mechanisms that protect and maintain genomic integrity and could uncover novel RNA-guided mechanisms that have potential for use in technology and therapy.
Applying our Research
Maintaining genome integrity is crucial for the fitness of both cells and organisms, and its loss is associated with various diseases, including cancer. Investigating the molecular mechanisms of small RNA-guided genome defense will enhance our understanding of genome surveillance and inspire innovative biomedical approaches to combat genomic instability in diseases. RNA-based mechanisms have already proven to be effective for biotechnology and targeted therapy, and gaining new insights into piRNA pathways will expand our molecular repertoire even further.
Need for Further Study
Small regulatory RNAs have been found in all domains of life, but their diverse roles in gene regulation and genome surveillance are only beginning to be understood. To fully characterize these regulatory pathways, elucidate their molecular mechanisms, and develop innovative therapies based on their model, further studies are necessary.
Biography
Post Doctoral Fellow, Cold Spring Harbor Laboratory, 2007-2015
Graduate Student, Friedrich Miescher Institute for Biomedical Research, 2002-2007
Ph.D., University of Basel, Switzerland, 2007
M.D., University of Vienna, Austria, 2002
Related Scientific Focus Areas
This page was last updated on Thursday, November 30, 2023