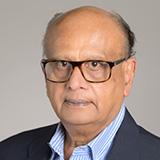 Ashok Kulkarni, Ph.D.
Senior Investigator
Laboratory of Cell and Developmental Biology
NIDCR
Building 30, Room 130
30 Convent Drive
Bethesda, MD 20892
301-435-2887
Research Topics
Our research focuses on characterizing TGF-ß and Cdk5 signaling pathways and their crosstalk. Our research efforts are mainly centered on delineating how these signaling pathways affect disease processes that cause inflammation and fibrosis of salivary glands, promote tumor growth in the head and neck region, and affect neuronal functions that cause inflammatory pain in the body, particularly in the craniofacial region. In order to investigate the mechanisms and crosstalk between these pathways, we have used an array of molecular approaches. These approaches include conventional and conditional gene targeting coupled with genomic and proteomic analysis. Our present studies will not only contribute to a greater understanding of the molecular roles of TGF_ß and Cdk5 in development and disease, but should also help future efforts to effectively treat many disorders.

We have recently discovered that (a) conditional overexpression of active TGF-ß1 disrupts  mouse salivary gland development and function, (b)  conditional deletion of TGF-ß signaling in murine head and neck epithelia and subsequent DMBA treatment leads to  progressive tumor formation with activation of the PI3K/Akt pathway, (c)  compound deletion of TGF-ß receptor 1 and PTEN genes in oral epithelium results in spontaneous and rapid  HNSCC with complete penetrance, (d) TNF-_ is a key regulator of Cdk5 activity during pain signaling through transcriptional activation of p35, (e) resveratrol, a known analgesic, inhibits Cdk5 activity by  modulating p35 expression, and (f) active crosstalk between the TGF-ß and Cdk5 pathways mediates inflammatory pain signaling.  We continue characterizing modulators of Cdk5 activity in inflammatory pain, and newly identified potential Cdk5 substrates for their involvement in pain signaling. We will extend our current studies to analyze the role of Cdk5 in craniofacial pain. Particularly, we will delineate the precise nature of the crosstalk between TGF-ß and Cdk5 and how it affects disease processes.  
Biography
Dr. Kulkarni received his Ph.D. from M.S. University in Baroda, India. He served as a postdoctoral fellow at Columbia University, NY, from 1982-1987, and then as a senior staff fellow in NINDS at NIH from 1987-1995. In 1995, he joined NIDCR as a tenure track investigator to head the Functional Genomics Unit and the Gene Transfer Facility, and in 2000 he was tenured as a senior investigator and appointed chief of the Functional Genomics Section in the NIDCR. His laboratory studies the molecular mechanisms involved in cancer and pain affecting the oral and craniofacial areas. He continues to serve as manager of the Gene Transfer Facility, which provides research and technical services to generate and preserve genetically engineered mouse models for the investigators in the Division of Intramural Research of NIDCR. He is a member of the American Association of Dental Research, the International Association of Dental Research, the Society for Neuroscience, and the International Association for the Study of Pain. He currently serves as a reviewer for numerous scientific journals, and as an editorial board member for The Journal of Dental Research and Neurochemical Research.
Related Scientific Focus Areas

---
This page was last updated on February 20th, 2018