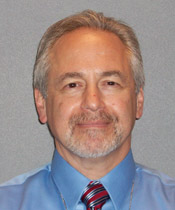 Anthony F. Suffredini, M.D.
Senior Investigator
Critical Care Medicine Department
NIH Clinical Center
Research Topics
Dr. Suffredini's lab group is investigating biomarkers of infection and lung injury. His team is using a novel means of detecting fungal pathogens in bronchoalveolar lavage using proteomic methodology. A major ongoing collaborative project is investigating the effects of inhaled cyclosporine in hematopoietic stem cell or lung transplant patients with bronchiolitis obliterans. Dr. Suffredini directed the development of point-of-care ultrasound in the CCMD ICU and has helped to provide regular didactic and hands-on training for members of the department. He directs the Clinical Center Endotoxin Repository, which for the last 12 years has been the sole world source of endotoxin for human studies. It has provided endotoxin to over fifty different investigators from biopharmaceutical firms, clinical research facilities, and academic centers as a means to study mechanisms of inflammation, proof of principle for evaluation of novel pharmaceutical or biologic agents, and as an immunoadjuvant for immunotherapy trials of cancer.
Biography
Dr. Suffredini completed his undergraduate studies at Boston University. He attended the University of Rome School of Medicine and graduated from the University of Connecticut School of Medicine. He then completed an internship and residency in internal medicine at the Medical College of Virginia, Richmond, and a fellowship in critical care medicine at the University Health Center of Pittsburgh. He served one five-year term as associate editor of the American Journal of Respiratory Diseases and Critical Care. He came to the Clinical Center in 1984 as a medical staff fellow in the Critical Care Medicine Department. He has held his current position as senior investigator since 1989 and is currently associate chief of the department. He is a co-founder of the Functional Genomics Section and Director of the Clinical Proteomics Group in the Critical Care Medicine Department. He is a founding member and serves on the Organizing Committee of the United States Critical Illness and Injury Trials Group (USCIITG).
Related Scientific Focus Areas

This page was last updated on Thursday, September 12, 2019