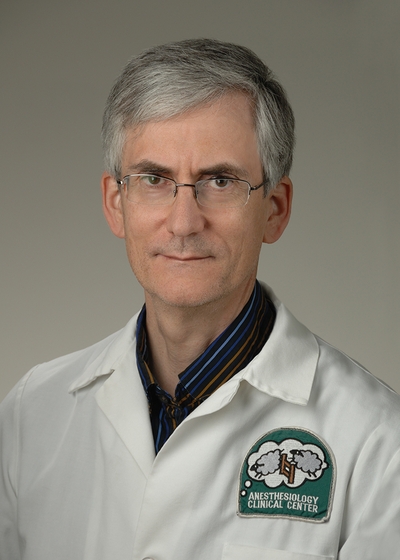 Andrew Mannes, M.D., M.E.
Senior Clinician
Department of Perioperative Medicine
NIH Clinical Center
Research Topics
Dr. Andrew Mannes is chief of the Clinical Center's Department of Perioperative Medicine. Dr. Mannes has a long-standing interest in the treatment of severe pain often seen at the end of life. His current interests include developing pain therapies using gene therapy; targeting pain pathways with selective agonists, toxins, or fusion proteins; and improving the diagnosis of disease states using proteomic and genomic techniques.
Dr. Mannes has written widely in books and medical journals on such topics as advances in cancer pain management, gene therapy for pain, and neurosurgical intervention approaches to pain relief. He is board certified in anesthesiology and fellowship-trained in pain management. He collaborates with the Clinical Center's Pain and Palliative Care Service in the area of pain management and has also worked on treatment of chronic pain with investigators in the laboratories of the Pain and Neurosensory Mechanisms Branch of the National Institute of Dental and Craniofacial Research.
Biography
Following completion of a Bachelor of Science degree in Bio-Engineering at the University of Pennsylvania and a Master of Engineering degree at Dartmouth College, Dr. Mannes received his MD degree at George Washington University. He completed a transitional internship at the Presbyterian Hospital of Philadelphia followed by an anesthesia residency at the Hospital of the University of Pennsylvania. While at University of Pennsylvania, he completed a fellowship in pain management and joined the Penn faculty as an Instructor in Anesthesiology in 1994. He was promoted to Assistant Professor of Anesthesiology in 1997 before coming to NIH. Dr. Mannes completed an NIH research fellowship in molecular biology in 1997. He has been in the Department of Anesthesia and Surgical Services since 2001.
Dr. Mannes is a member of the American Medical Association and is on the editorial advisory board of Open Pain Journal.
Related Scientific Focus Areas
This page was last updated on Friday, August 26, 2022