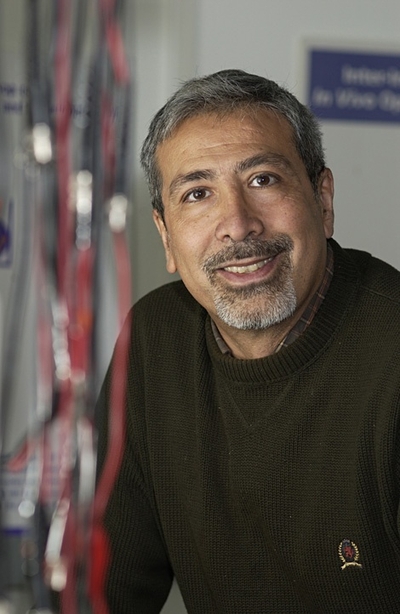 Amir Hossein Gandjbakhche, Ph.D.
Senior Investigator
Section on Translational Biophotonics
NICHD/DIR
Research Topics
Quantitative Biophotonics for Tissue Characterization and Function
Our objectives are to devise quantitative biophotonics methodologies and associated instrumentations in order to study biological phenomena at different length scales—from nanoscopy to microscopy—and diffuse biophotonics. We take advantage of our expertise in stochastic modeling to study complex biological phenomena whose properties are characterized by elements of randomness in both time and space, such as light-tissue interactions. We explore various properties of light-matter interactions as sources of optical contrasts, such as polarization properties, endogenous or exogenous fluorescent labels, absorption (e.g., hemoglobin or chromophore concentration), and/or scattering. We have used these contrast mechanisms for tomographic and spectroscopic methods to develop benchtop instrumentation for preclinical and clinical uses. We are identifying physiological sites where optical techniques might be clinically practical and offer new diagnostic knowledge and/or less morbidity than existing diagnostic methods.
Biography
Dr. Amir Gandjbakhche is a Senior Investigator and Head of the Section on Translational Biophotonics of NICHD. He obtained his Ph.D. in physics with a biomedical engineering specialty from the University of Paris in 1989. He is a Fellow of SPIE, the largest society of optical engineers, and Optical Society of America. Dr. Gandjbakhche leads a research group that uses different optical sources of contrast such as endogenous or exogenous fluorescent labels, absorption (e.g., hemoglobin or chromophore concentration) in order to devise quantitative theories at the board, and designs instrumentation at the bench, and brings the imaging system to the bedside. Areas of interest are the use of near infrared spectroscopy/EEG to applied to developmental disorders and diseases such as cognitive function in Traumatic Brain Injury and Autistic Spectrum Disorder, and using spectroscopic methods to quantify oxygenation in placenta and placental cell lines.
Related Scientific Focus Areas
This page was last updated on Thursday, November 17, 2022