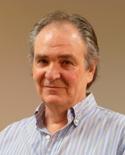 Alex Martin, Ph.D.
Senior Investigator
Section on Cognitive Neuropsychology, Laboratory of Brain and Cognition (LBC)
NIMH
Research Topics
Our goal is to elucidate the neural circuitry associated with specific perceptual, memory, and social functions. Functional brain imaging technologies - functional magnetic resonance imaging (fMRI) and magnetoencephalography (MEG) - are used to evaluate these functions in typically developing individuals and patients with neurological and neuropsychiatric disorders. A major focus of our research is on semantic memory, the part of long-term memory composed of general information, such as facts, ideas, and the meaning of objects and words. We are particularly interested in characterizing the neural circuits mediating object recognition and how this circuitry is modified by experience and learning. We are also interested in understanding how abstract forms of knowledge, such as information about social interactions, are represented in autism spectrum disorders and related conditions.
Biography
Dr. Martin received his B.A. from the City College of New York and his Ph.D. from the City University of New York. He did his post-doctoral work at the National Institute of Neurological Disorders and Stroke on the breakdown of language and memory processes in Alzheimer's disease. In 1985 he joined the faculty of the Uniformed Services University of the Health Sciences where he studied cognitive dysfunction associated with HIV infection. In 1990 he moved to the NIMH where he continued his work on cognitive abnormalities in neurological and neuropsychiatric disorders. In 1997 Dr. Martin became the Chief of the Cognitive Neuropsychology Section, Laboratory of Brain and Cognition. Dr. Martin is an elected Fellow of the American Association for the Advancement of Science, the American Psychological Society, and the American Psychological Association.
Related Scientific Focus Areas
This page was last updated on Tuesday, August 10, 2021