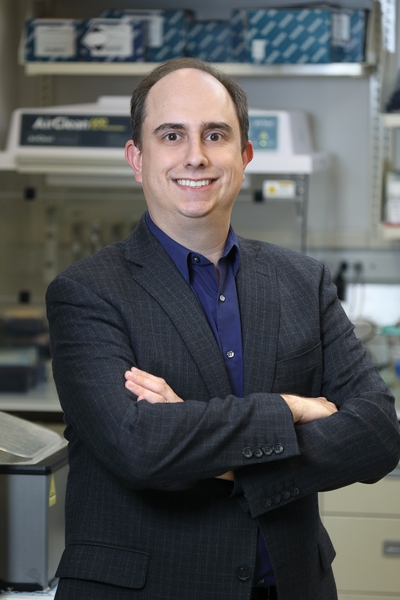 Adam G. Sowalsky, Ph.D.
Investigator
Laboratory of Genitourinary Cancer Pathogenesis
NCI/CCR
Building 37, Room 1062B Bethesda, MD 20892
240-760-7118
Research Topics
While the diagnosis and treatment of prostate cancer has increased in the "PSA-era" so too has potential overdiagnosis and overtreatment due to detection of indolent disease. Because decsions to treat with surgery or radiation are based on the morphology of prostate glands that appear on biopsy, concern about inadequate sampling, potential progression, and lack of molecular markers indicative of clinically significant disease lead most men to err on the side of caution, which results in comorbidities and decreased quality of life. Of key interest are molecular events that occur when prostate cancers first develop, and the clonal relationships between high and low (Gleason) grade cancerous glands. We were the first to use laser capture microdissection and next-generation sequencing of genomic translocations to demonstrate definitive clonality between glands within the same individual, and further identify PTEN loss as a potential mechanism of clonal progression (from Gleason pattern 3 to Gleason pattern 4). The possibility of clonal progression allows for elucidation of events contributing to progression to an aggressive state and potential development of therapeutic inhibitors. A major goal for us has been to characterize the molecular basis for progression, by performing gene expression analyses on clonal Gleason pattern 3 and Gleason pattern 4 glands. We have coupled this effort with whole exome sequencing and tumor suppressor copy number analysis, with the goal of understanding events that occur early in prostate cancer (present in the common precursor) and events that occur later (with progression to Gleason pattern 4).
A subset of men treated with radiation or surgery for prostate cancer will experience recurrence, and surgical or medical castration is employed to deplete the availability of testicular androgen for driving metastatic cancer growth. Nearly all men treated with castration inevitably relapse, so there is key interest in identifying mechanisms contributing to the development of castration resistant prostate cancer (CRPC) and its ability to acquire resistance to next-generation therapeutics. Using RNA-seq, we have identified that CRPC harbors an abundance of unspliced and improperly-spliced mRNA, including a variant of AR, which renders the cell impervious to biological mechanisms that target properly-spliced transcripts. We have also exploited sequencing technologies to understand mechanisms of resistance in residual tumor from clinical specimens, such as ongoing clinical trials, and discovered that a well-characterized mutation of the Androgen Receptor renders tumors resistant to the CYP17A1 inhibitor abiraterone acetate. Ongoing efforts are examining the basis for resistance to enzalutamide and exploring defects in DNA damage repair systems that are found in the tumors of these men.
It is now well accepted that cancer cells secrete DNA into the blood (cell free or circulating tumor DNA) and for many cancer types including breast and lung, straightforward assays to detect this circulating DNA are available. However, these assays are based on the presence of "hotspot" mutations, which occur with less than 10% frequency in prostate cancer. As a result, attempts to detect cfDNA in prostate cancer has been largely unsuccessful. We have overcome this obstacle by developing inexpensive PCR-based assays that are based on unique somatic mutations (passenger or driver) events in cancers, which we determine by sequencing more than one focus of primary tumor. This approach allows us to determine the clonal events which would most likely be present in micrometastatic tumors that are shedding cfDNA, as well as focal events that may exist in distinct subclones. If successful, the ability to perform nominally invasive "liquidbiopsies" for prostate cancer patients could enable detection of clinically significant disease before PSA levels rise and more rapid therapeutic intervention. Using serial plasma samples acquired from high-risk patients after radical prostatectomy, we have employed a patient-specific assay to detect tumor DNA in the plasma fraction. We first performed exome sequencing on multiple foci of tumor from the prostatectomy specimen, and then assayed for a subset of these mutations in the plasma specimens using deep (100,000X sequencing). In the ctDNA fraction, we  identified mutations at low frequency (<0.01%) when PSA was undetectable and these mutations increased in frequency (0.5-2%) when PSA levels rose to detectable levels. These data suggest that precision assays for ctDNA can be more sensitive than PSA.
Biography
Dr. Sowalsky received his Ph.D. from Tufts University's Sackler School of Graduate Biomedical Sciences, performing his dissertation research in the lab of Larry Feig. He conducted postdoctoral training at Harvard Medical School/Beth Israel Deaconess Medical Center with Steven Balk. The central theme of Dr. Sowalsky's research is understanding the biology of the molecular events associated with prostate cancer development, progression, and resistance to therapy.
Related Scientific Focus Areas
---
This page was last updated on July 19th, 2021