To See or Not To See...
Owen Schwartz finds ways for scientists to visualize the previously unknown.
It's a little-known fact that recent consumer demand for Blu-Ray DVD players has helped research at the NIH. How? Growth of Blu-Ray sales caused the price of blue lasers to plummet, making it cheaper for scientists to build super- and ultra-resolution microscopes, a cornerstone of today's biomedical research.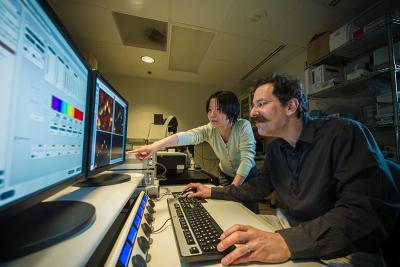 "Ever since microscopy moved from light-based to laser-based I've been fascinated by the possibilities in the realm of biology," Owen Schwartz, Ph.D., says. "So it seemed only natural that I would eventually gravitate away from the biology, towards a focus on the technology."
Schwartz now heads the Biological Imaging Facility at the National Institute of Allergy and Infectious Diseases (NIAID), a shared resource that provides hundreds of NIAID scientists with access to the most advanced tools and expertise in a fiscally responsible manner. His mission is to fill a translational gap: between researchers and the evolving technologies that can visualize specimens ranging from a single virus particle to a whole, living creature. The facility provides access to several state-of-the-art confocal microscopes, including a STED super-resolution microscope.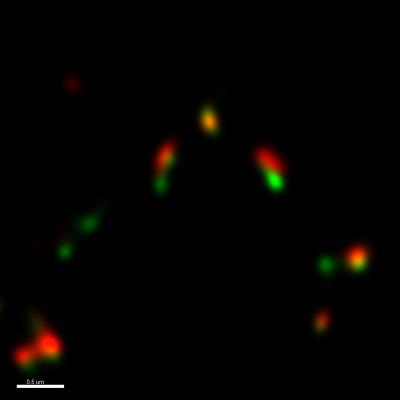 STED, or Stimulated Emission Depletion, microscopy is one of a growing number of high-tech imaging tools that bypass the traditional limits of light-based microscopy by using lasers, allowing scientists to visualize biological specimens at very high resolution. While light-based microscopes can only visualize objects larger than 0.2μm (about the size of a small bacterium), the STED super-resolution microscope, with a resolution limit of .07μm, allows visualization of individual virus particles. In addition, STED can be used to visualize the cellular processes of living cells, a feat not possible with ultra-high resolution electron microscopes.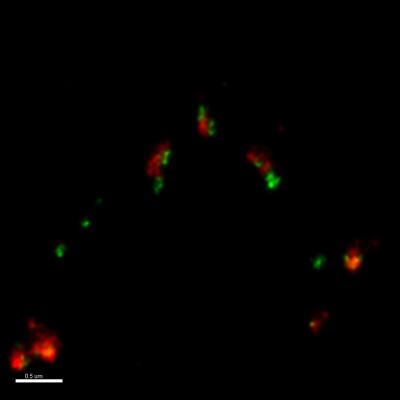 "When a researcher comes to us looking for help, we offer the latest instruments, expertise, and shared experience," Schwartz explains. "What we don't offer is a standalone imaging service—collaboration is the key to our success."
He and four full-time staff provide support and advice on everything from the choice of dyes used for labeling cells to microscope set-up and image capturing techniques. They can also help with image processing, data analysis, and publication preparation.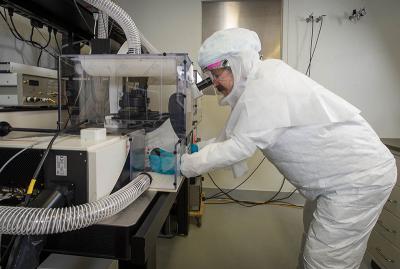 Being part of NIAID, one of the biggest challenges for Schwartz and his colleagues was establishing a dedicated biosafety level-3 (BSL-3) confocal microscope for studying agents that transmit through the air and cause potentially lethal infections, for example, the infectious agents behind tuberculosis, polio, influenza, and anthrax.
Due to the inherent dangers of BSL-3 research, scientists perform all lab manipulations in a gas-tight enclosure while heavily suited-up. A standard microscope with all the small dials and buttons normally used to examine specimens would pose problems for researchers wearing cumbersome safety suits, so Schwartz's team designed and installed a modified version that includes simplified digital panels and ergonomic controls.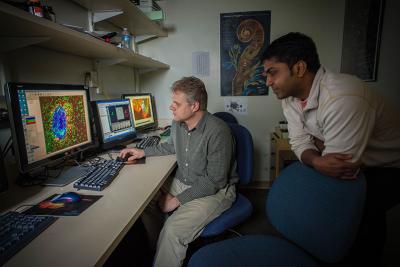 Schwartz plays an active role in an intramural scientific interest group on imaging that facilitates campus-wide sharing of expertise between the many IRP Institutes and Centers. With the field of optics advancing at an incredibly fast pace and the increasing availability of enormous raw computing power, imaging has become a central component of today's biomedical research.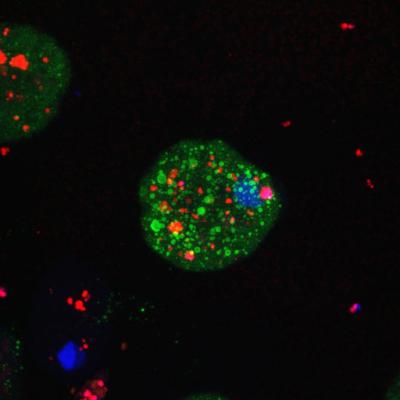 "Humans have a natural instinct to gravitate towards visual information—of our five senses, sight is by far our most powerful," Schwartz says. "It provides information on motion, form, and depth—so it's natural that we seek visual information to support our hypotheses."
It's also natural that in the rapidly evolving world of imaging, IRP scientists seek out the true experts in the field who can unlock, process, and interpret the complex biological data obtained from these emerging technologies.
Owen Schwartz, Ph.D., is head of the Biological Imaging Facility of the National Institute of Allergy and Infectious Disease (NIAID).
This page was last updated on Wednesday, May 24, 2023