IRP researchers discover new genetic eye disease
Genetic and clinical research reveals new type of macular dystrophy, a cause of central vision loss
Researchers from the National Eye Institute (NEI) have identified a new disease that affects the macula, a small part of the light-sensing retina needed for sharp, central vision. Scientists report their findings on the novel macular dystrophy, which is yet to be named, in JAMA Ophthalmology. NEI is part of the National Institutes of Health.
Macular dystrophies are disorders that usually cause central visual loss because of mutations in several genes, including ABCA4, BEST1, PRPH2, and TIMP3.
For example, patients with Sorsby Fundus Dystrophy, a genetic eye disease specifically linked to TIMP3 variants, usually develop symptoms in adulthood. They often have sudden changes in visual acuity due to choroidal neovascularization– new, abnormal blood vessels that grow under the retina, leaking fluid and affecting vision.
TIMP3 is a protein that helps regulate retinal blood flow and is secreted from the retinal pigment epithelium (RPE), a layer of tissue that nourishes and supports the retina's light-sensing photoreceptors. All TIMP3 gene mutations reported are in the mature protein after it has been "cut" from RPE cells in a process called cleavage.
"We found it surprising that two patients had TIMP3 variants not in the mature protein, but in the short signal sequence the gene uses to 'cut' the protein from the cells. We showed these variants prevent cleavage, causing the protein to be stuck in the cell, likely leading to retinal pigment epithelium toxicity," said Bin Guan, Ph.D., lead author.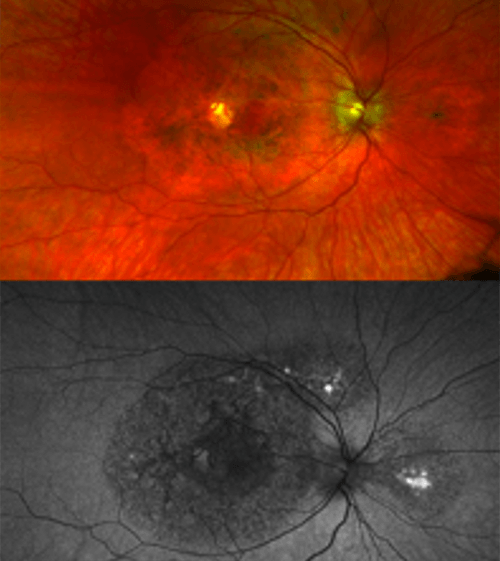 This page was last updated on Thursday, June 30, 2022