IRP researchers develop gene therapy for rare ciliopathy
Gene augmentation rescues cilia defects in light-sensing cells derived from patients with blinding disease
Researchers from the National Eye Institute (NEI) have developed a gene therapy that rescues cilia defects in retinal cells affected by a type of Leber congenital amaurosis (LCA), a disease that causes blindness in early childhood. Using patient-derived retina organoids (also known as retinas-in-a-dish), the researchers discovered that a type of LCA caused by mutations in the NPHP5 (also called IQCB1) gene leads to severe defects in the primary cilium, a structure found in nearly all cells of the body. The findings not only shed light on the function of NPHP5 protein in the primary cilium, but also led to a potential treatment for this blinding condition. NEI is part of the National Institutes of Health.
"It's so sad to see little kids going blind from early onset LCA. NPHP5 deficiency causes early blindness in its milder form, and in more severe forms, many patients also exhibit kidney disease along with retinal degeneration," said the study's lead investigator, Anand Swaroop, Ph.D., senior investigator at the NEI Neurobiology Neurodegeneration and Repair Laboratory. "We've designed a gene therapy approach that could help prevent blindness in children with this disease and one that, with additional research, could perhaps even help treat other effects of the disease."
LCA is a rare genetic disease that leads to degeneration of the light-sensing retina at the back of the eye. Defects in at least 25 different genes can cause LCA. While there is an available gene therapy treatment for one form of LCA, all other forms of the disease have no treatment. The type of LCA caused by mutations in NPHP5 is relatively rare. It causes blindness in all cases, and in many cases it can also lead to failure of the kidneys, a condition called Senior-Løken Syndrome.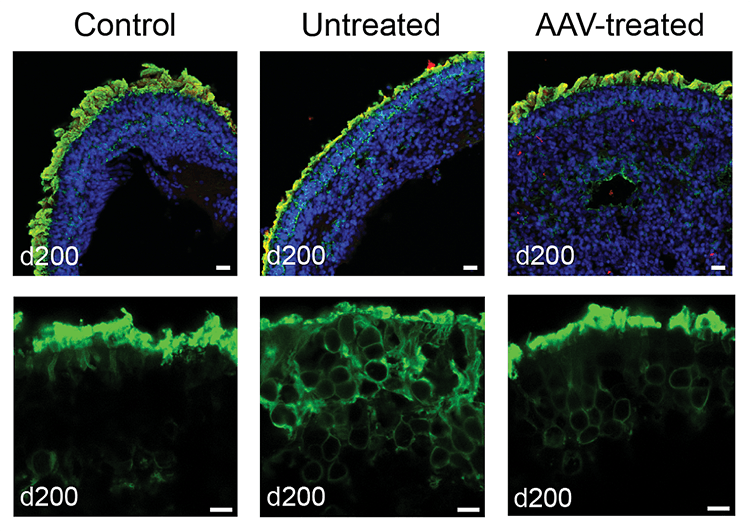 This page was last updated on Monday, October 10, 2022