Ibrutinib improves survival for younger people with diffuse large B-cell lymphoma
New evidence suggests that adding the targeted therapy ibrutinib (Imbruvica) to a standard chemotherapy regimen can improve how long some younger people with a specific form of diffuse large B-cell lymphoma (DLBCL) live. The findings, published Nov. 4, 2021, in Cancer Cell, come from a new analysis by researchers at the National Cancer Institute (NCI), part of the National Institutes of Health, of a previously conducted phase 3 clinical trial.
Initial results from that study, known as the PHOENIX trial, showed that combining ibrutinib with the standard chemotherapy regimen did not help patients with a form of DLBCL called non-GCB DLBCL to live longer overall. However, by analyzing tumor biopsy samples from patients on the trial, NCI researchers and their collaborators have now shown that younger patients with specific genetic subtypes of non-GCB DLBCL, called MCD and N1, had an exceptional response to the treatment combination, with all such patients alive without disease three years after diagnosis.
"People thought the trial didn't work," said Louis M. Staudt, M.D., Ph.D., chief of the Lymphoid Malignancies Branch in the Cancer for Cancer Research at NCI. "But there was something interesting going on — if you just considered younger patients under the age of 60, they had a real benefit from ibrutinib, and we now understand why."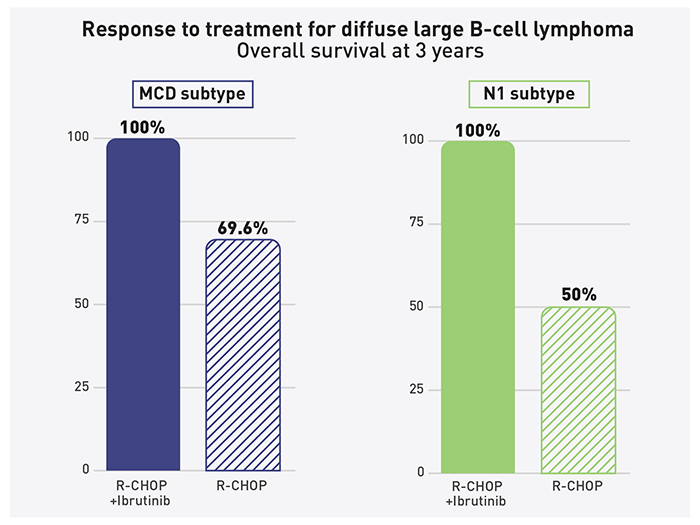 This page was last updated on Friday, January 21, 2022