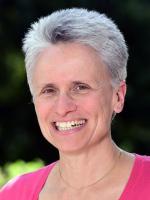 Stephanie London, M.D., Dr.P.H.
Senior Investigator
Epidemiology Branch / Genetics, Environment & Respiratory Disease Group
NIEHS
Research Topics
The Genetics, Environment & Respiratory Disease Group, headed by Stephanie J. London, M.D, Dr.P.H., focuses on environmental causes, genetic susceptibility and interactions in relation to nonmalignant respiratory conditions.
Biography
London earned a B.A., M.D., M.P.H in occupational health, and Dr.P.H. in epidemiology from Harvard University. She completed a residency in Internal Medicine at the Massachusetts General Hospital. She is licensed in California, and is Board Certified in both Internal Medicine and in Preventive Medicine, with Specialty in Occupational and Environmental Medicine. London was an Assistant Professor, Department of Preventive Medicine at the University of Southern California School of Medicine, Los Angeles before coming to NIEHS in 1995. She is currently a Principal Investigator at NIEHS with a dual appointment in the Epidemiology Branch and Laboratory of Respiratory Biology.
Related Scientific Focus Areas
This page was last updated on Wednesday, March 5, 2014