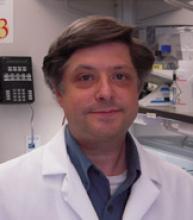 Jeffery K. Taubenberger, M.D., Ph.D.
Senior Investigator
Viral Pathogenesis & Evolution Section
NIAID/DIR
Research Topics
The Viral Pathogenesis and Evolution Section seeks to address fundamental questions of influenza virus pathogenesis in different animal hosts, including the mapping of viral virulence factors and mutations associated with host adaptation, as well as characterizing the host response to infection. The role of secondary bacterial infections in influenza infection is being examined. Experiments are also being performed to evaluate novel therapeutics for the treatment of severe influenza and to evaluate the significance of heterosubtypic and heterotypic immunity to influenza viral antigens.
The section studies viral evolution and fitness through the development of improved viral surveillance and genomics. These efforts employ both in vitro assays and experimental animal model systems. These studies seek to understand the dynamics of viral evolution in different hosts, including birds, mammals, and the evolutionary dynamics of human pandemic and seasonal influenza viruses.
Since completing the sequencing of the 1918 pandemic viral genome, the section has maintained an interest in archaevirology and is seeking to characterize pre- and post-1918 influenza virus genomes from archival samples.
The section also performs translational research involving clinical trials addressing pandemic and seasonal influenza viral infections in patients with and without immunocompromise. These investigations include characterization of the development of antiviral resistance mutations, intra-host viral evolution, and characterization of the host immune response. Postmortem examinations of lung tissue from fatal cases of pandemic and seasonal influenza are employed to understand the development of severe influenza viral disease in humans. The section has recently begun a human volunteer influenza virus challenge study. Finally, the section continues to develop novel molecular genetic assays for influenza viruses for diagnosis, surveillance, and mutation screening.
Together, such investigations will help shed light on the emergence, evolution, and severity of influenza pandemics as well as seasonal influenza.
Biography
Dr. Taubenberger received a B.S. in biology from George Mason University in 1982. He earned his medical degree in 1986 and his Ph.D. in 1987, both from the Medical College of Virginia. He completed a residency in pathology at the National Cancer Institute and holds dual board certifications in anatomic pathology and in molecular genetic pathology from the American Board of Pathology and the American Board of Medical Genetics. Prior to coming to NIAID in 2006, he served as chair of the Department of Molecular Pathology at the Armed Forces Institute of Pathology in Washington, DC, a position he held since 1994. Dr. Taubenberger's research interests include influenza virus biology, evolution, pathophysiology, and surveillance. He also has clinical interests in the development and implementation of molecular diagnostic assays for neoplasia and infectious diseases.
Memberships
American Society for Microbiology
American Academy of Microbiology
Association of American Physicians
Editorial Boards
Related Scientific Focus Areas
This page was last updated on Tuesday, August 16, 2022