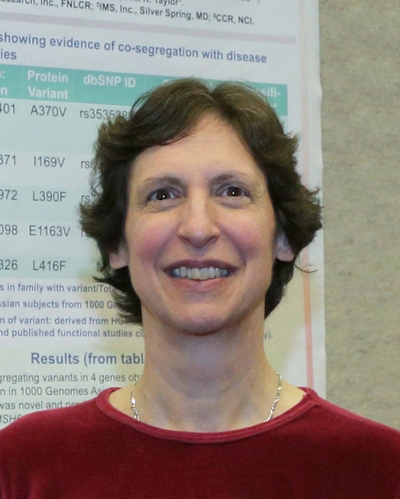 Alisa M. Goldstein, Ph.D.
Senior Investigator
Clinical Genetics Branch
NCI/DCEG
9609 Medical Center Drive
Room SG/6E438
Rockville, MD 20850
240-276-7233
Research Topics
Identification of genetic and environmental risk factors for cancer
Search for high-, moderate-, and/or low-risk cancer susceptibility genes using family-based, tumor-based, and case-control/cohort studies
For cancers with identified major susceptibility gene mutations, investigation of other genetic and environmental factors and their interactions in the expression of disease
Biography
Dr. Goldstein received a Ph.D. in genetic epidemiology from the University of California at Los Angeles in 1988 and subsequently joined NCI. She received NIH scientific tenure in 1997. Dr. Goldstein completed a fellowship in the NIH InterInstitute Medical Genetics Program, and is board certified in medical genetics. Her research focuses on genetic epidemiologic studies of several cancers, including melanoma and upper gastrointestinal (UGI) cancer. The main goal of her studies is to understand the role of genetic and environmental factors in the etiology of these cancers. Her studies combine epidemiologic, genetic, clinical, and molecular methodologies.
Selected Publications
Wu C, Wang Z, Song X, Feng XS, Abnet CC, He J, Hu N, Zuo XB, Tan W, Zhan Q, Hu Z, He Z, Jia W, Zhou Y, Yu K, Shu XO, Yuan JM, Zheng W, Zhao XK, Gao SG, Yuan ZQ, Zhou FY, Fan ZM, Cui JL, Lin HL, Han XN, Li B, Chen X, Dawsey SM, Liao L, Lee MP, Ding T, Qiao YL, Liu Z, Liu Y, Yu D, Chang J, Wei L, Gao YT, Koh WP, Xiang YB, Tang ZZ, Fan JH, Han JJ, Zhou SL, Zhang P, Zhang DY, Yuan Y, Huang Y, Liu C, Zhai K, Qiao Y, Jin G, Guo C, Fu J, Miao X, Lu C, Yang H, Wang C, Wheeler WA, Gail M, Yeager M, Yuenger J, Guo ET, Li AL, Zhang W, Li XM, Sun LD, Ma BG, Li Y, Tang S, Peng XQ, Liu J, Hutchinson A, Jacobs K, Giffen C, Burdette L, Fraumeni JF Jr, Shen H, Ke Y, Zeng Y, Wu T, Kraft P, Chung CC, Tucker MA, Hou ZC, Liu YL, Hu YL, Liu Y, Wang L, Yuan G, Chen LS, Liu X, Ma T, Meng H, Sun L, Li XM, Li XM, Ku JW, Zhou YF, Yang LQ, Wang Z, Li Y, Qige Q, Yang WJ, Lei GY, Chen LQ, Li EM, Yuan L, Yue WB, Wang R, Wang LW, Fan XP, Zhu FH, Zhao WX, Mao YM, Zhang M, Xing GL, Li JL, Han M, Ren JL, Liu B, Ren SW, Kong QP, Li F, Sheyhidin I, Wei W, Zhang YR, Feng CW, Wang J, Yang YH, Hao HZ, Bao QD, Liu BC, Wu AQ, Xie D, Yang WC, Wang L, Zhao XH, Chen SQ, Hong JY, Zhang XJ, Freedman ND, Goldstein AM, Lin D, Taylor PR, Wang LD, Chanock SJ. Joint analysis of three genome-wide association studies of esophageal squamous cell carcinoma in Chinese populations. Nat Genet. 2014;46(9):1001-1006.

Shi J, Yang XR, Ballew B, Rotunno M, Calista D, Fargnoli MC, Ghiorzo P, Bressac-de Paillerets B, Nagore E, Avril MF, Caporaso NE, McMaster ML, Cullen M, Wang Z, Zhang X, NCI DCEG Cancer Sequencing Working Group., NCI DCEG Cancer Genomics Research Laboratory., French Familial Melanoma Study Group., Bruno W, Pastorino L, Queirolo P, Banuls-Roca J, Garcia-Casado Z, Vaysse A, Mohamdi H, Riazalhosseini Y, Foglio M, Jouenne F, Hua X, Hyland PL, Yin J, Vallabhaneni H, Chai W, Minghetti P, Pellegrini C, Ravichandran S, Eggermont A, Lathrop M, Peris K, Scarra GB, Landi G, Savage SA, Sampson JN, He J, Yeager M, Goldin LR, Demenais F, Chanock SJ, Tucker MA, Goldstein AM, Liu Y, Landi MT. Rare missense variants in POT1 predispose to familial cutaneous malignant melanoma. Nat Genet. 2014;46(5):482-6.

Hill VK, Gartner JJ, Samuels Y, Goldstein AM. The genetics of melanoma: recent advances. Annu Rev Genomics Hum Genet. 2013;14:257-79.
Related Scientific Focus Areas
---
This page was last updated on January 19th, 2022