NIH launches first U.S. clinical trial of patient-derived stem cell therapy to replace dying cells in retina
NEI-led study to test safety of treatment for a form of age-related macular degeneration that currently lacks treatment
Researchers at the National Eye Institute (NEI) are launching a clinical trial to test the safety of a novel patient-specific stem cell-based therapy to treat geographic atrophy, the advanced "dry" form of age-related macular degeneration (AMD), a leading cause of vision loss among people age 65 and older. The geographic atrophy form of AMD currently has no treatment.
"The protocol, which prevented blindness in animal models, is the first clinical trial in the U.S. to use replacement tissues from patient-derived induced pluripotent stem cells (iPSC)," said Kapil Bharti, Ph.D., a senior investigator and head of the NEI Ocular and Stem Cell Translational Research Section. The NEI is part of the National Institutes of Health.
The therapy involves taking a patient's blood cells and, in a lab, converting them into iPS cells, which have the potential to form any type of cell in the body. The iPS cells are programmed to become retinal pigment epithelial (RPE) cells, the type of cell that dies early in the geographic atrophy stage of macular degeneration. RPE cells nurture photoreceptors, the light-sensing cells in the retina. In geographic atrophy, once RPE cells die, photoreceptors eventually also die, resulting in blindness. The therapy is an attempt to shore up the health of remaining photoreceptors by replacing dying RPE with iPSC-derived RPE.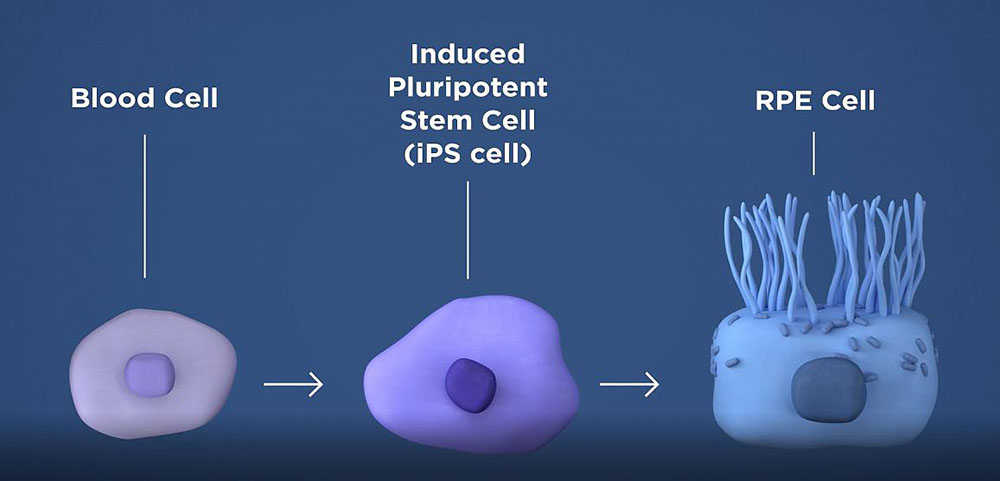 This page was last updated on Friday, January 21, 2022