Microglia in the olfactory bulb have a nose for protecting the brain from infection
Researchers at the National Institute of Neurological Disorders and Stroke (NINDS), a part of the National Institutes of Health, have identified a specific, front-line defense that limits the infection to the olfactory bulb and protects the neurons of the olfactory bulb from damage due to the infection. Neurons in the nose respond to inhaled odors and send this information to a region of the brain referred to as the olfactory bulb. Although the location of nasal neurons and their exposure to the outside environment make them an easy target for infection by airborne viruses, viral respiratory infections rarely make their way from the olfactory bulb to the rest of the brain, where they could cause potentially fatal encephalitis. The study was published in Science Immunology.
Taking advantage of special viruses that can be tracked with fluorescent microscopy, the researchers led by Dorian McGavern, Ph.D., senior investigator at NINDS, found that a viral infection that started in the nose was halted right before it could spread from the olfactory bulb to the rest of the central nervous system.
"Airborne viruses challenge our immune system all the time, but rarely do we see viral infections leading to neurological conditions," said Dr. McGavern. "This means that the immune system within this area has to be remarkably good at protecting the brain."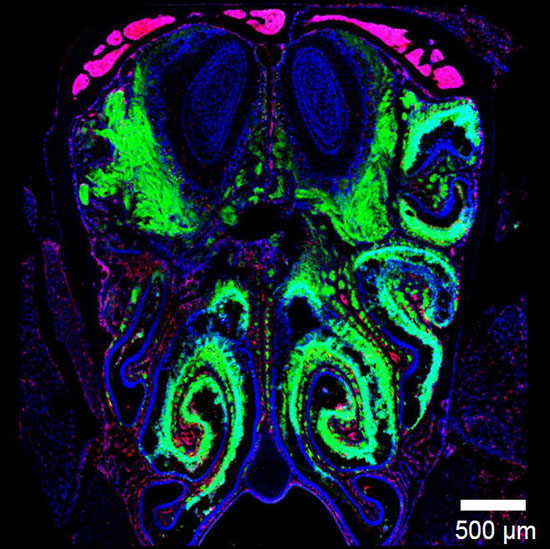 This page was last updated on Friday, January 21, 2022