Innovative Approaches to Improve Maternal Health Hybrid Workshop
to (registration required)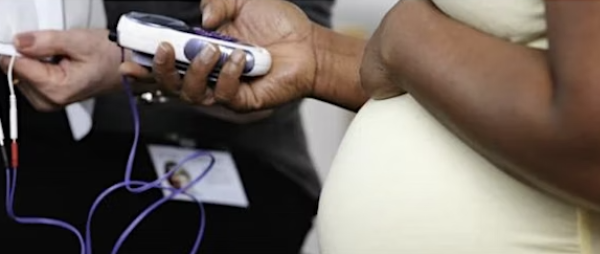 NIH Natcher Conference Center (Building 45) and NIH Videocast (hybrid event)
This hybrid workshop focused on maternal mortality and morbidity (MMM) will bring together technology developers, medical device experts, small business innovators, implementation scientists, MMM researchers, and academic, industry, and community-based partners. The goal is to connect the research community with small businesses that are developing new approaches to improve MMM and its associated health disparities. Hosted by the National Heart, Lung, and Blood Institute (NHLBI) and sponsored by NIH's (IMPROVE) Initiative along with six other NIH institutes and offices, the workshop will be held in the Main Auditorium of the Natcher Conference Center in Building 45 on the NIH campus and will also be videocast.
Panel session experts will focus on the best ways to move new maternal health technology into the community, how to address health disparities faced by pregnant people, and how to improve access to diagnostic and treatment tools. Topics include technology, clinical implications, community engagement, implementation, regulatory considerations, government funding, payors and investors, and more. Small businesses can apply to "pitch" their innovative solutions and receive feedback from experts in the field. Other highlights include a poster session on clinical research and interactive discussions designed to encourage interdisciplinary collaboration. The event is free and open to the public.
Register by April 25 to attend in-person or by May 5 to watch the event live via NIH videocast. 
This page was last updated on Tuesday, March 28, 2023