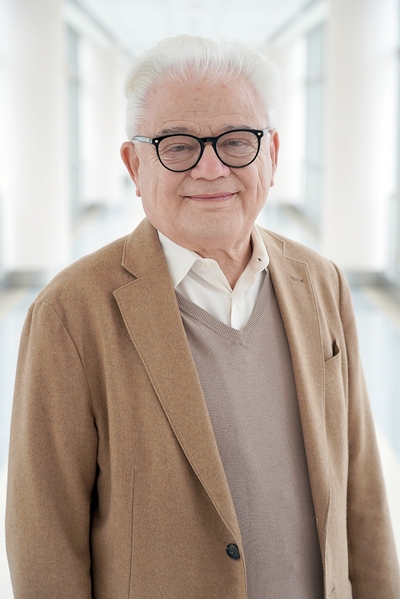 Steven J. Soldin, Ph.D.
Senior Scientist
Department of Laboratory Medicine
NIH Clinical Center
Research Topics
Originally from Johannesburg, South Africa, Dr. Steven Soldin, is senior scientist in the department of Laboratory Medicine in the Clinical Center. Prior to his arrival at NIH in 2011 he had been a pioneering investigator in clinical chemistry, especially in the field of therapeutic drug monitoring.
Mass spectrometry permits the specific, accurate and precise measurement of many compounds such as steroids and thyroid hormones. These methods are far superior to current non-specific immunoassay methods. Dr. Soldin's focus in the last two decades has been to study the role of mass spectrometry in improving the diagnosis of thyroid and adrenal disorders.
At the Clinical Center, he has found that routine immunoassay methods misdiagnose about 50% of patients with hypothyroidism (found in 20 million people in the USA) and that the correct diagnosis correlating with the patient's clinical condition is obtained using mass spectrometric methods.
He has also found that adrenal diseases should be investigated focusing on 11 deoxycortisol and corticosterone in preference to the older approach of assessing cortisol under various conditions such as ACTH stimulation.
Biography
Dr. Soldin earned his honors degree in Chemistry at the University of Witwatersrand in South Africa where he subsequently received his Master's degree in Organic Chemistry, and also his PhD in Biochemistry. He enrolled and obtained his boards in Clinical Chemistry at the University of Toronto and then accepted a tenured professor position at the University of Toronto in Clinical Biochemistry and Pharmacology. During his work in Toronto, Dr. Soldin developed new procedures, based on the pressure-harnessing technology known as high-performance liquid chromatography (HPLC), to effectively and sensitively tease out, one by one, disease markers and drugs. Over the years, first in Toronto and later at Children's National Medical Center and George Washington School of Medicine in Washington, D.C., he used this approach to advise physicians on the treatment of patients with a host of diseases—epilepsy, AIDS, heart disease, and cancers such as neuroblastoma or pheochromocytoma.
From 1988-2011, Dr. Soldin worked as the Director of Clinical Chemistry at Children's National Medical Center in Washington, D.C. and was a tenured professor in the Department of Laboratory Medicine at The George Washington University School of Medicine. As he was developing his tandem mass spec work, he moved to the Clinical Research Center at Georgetown University as Director of their Mass Spectrometry Core facility, where he still serves as adjunct professor in the Department of Endocrinology and Metabolism.
In October 2011, Dr. Soldin became a full time Senior Scientist at the Clinical Center Department of Laboratory Medicine where he additionally holds the position of a Deputy Director of Chemistry and Director Post-Doctoral Training Program and the laboratory Mass Spectrometry facility.
Related Scientific Focus Areas
This page was last updated on Wednesday, September 4, 2019