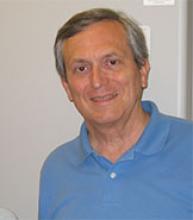 Robert S. Munford, M.D., B.A., M.A.
Senior Clinician
Antibacterial Host Defense Section
NIAID/DIR
Research Topics
Animals defend themselves from many Gram-negative bacteria by 1) sensing the lipopolysaccharide (endotoxin) found in the bacterial cell wall and then 2) mounting inflammatory reactions that kill the bacteria. Our research has produced strong evidence for a new concept: In order to recover from infection, animals must kill these bacteria and inactivate their LPS. We made mice that are unable to inactivate LPS and found that they never completely recover from exposure to LPS or to bacteria that make LPS. Their macrophages and other cells remain "reprogrammed" in ways that make them respond very slowly when they are re-exposed to LPS or other microbial molecules. As a result, the mice are much more likely to die when they are challenged with virulent Gram-negative bacteria.

We recently found that the lipase that inactivates LPS, acyloxyacyl hydrolase (AOAH), also can inactivate oxidized phospholipids and an endocannabinoid, 2-arachidonoylglycerol. Our current studies focus on establishing whether or not these activities play significant roles in vivo.
Biography
Dr. Munford received his B.A. in history from Vanderbilt University and the M.A. in animal physiology from Oxford University before attending Harvard Medical School. After training in internal medicine at Parkland Memorial Hospital, Dallas, Texas, he served as an Epidemic Intelligence Service officer at the Centers for Disease Control and Prevention, did postdoctoral research at the Rockefeller University, and completed an infectious disease fellowship at the Massachusetts General Hospital. He worked for many years as a physician-scientist at the University of Texas Southwestern Medical School in Dallas before moving to the National Institutes of Health in 2009. His interest in bacterial lipopolysaccharides began when he investigated an outbreak of meningococcal disease in São Paulo, Brazil, in 1972. His lab's major research goal has been to understand how animals inactivate these highly stimulatory molecules.
Related Scientific Focus Areas
This page was last updated on Friday, August 12, 2022