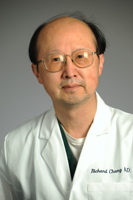 Richard Chang, M.D.
Senior Clinician
Radiology and Imaging Sciences
NIH Clinical Center
Building 10, Room 1C363
10 Center Drive
Bethesda, MD 20892
301-402-0256
Research Topics
Dr. Chang has, in collaboration with Dr. Home (now retired) and Dr. Lozier of the Clinical Center Hematology Department, conducted important clinical research studies in thrombolytic therapy for venous thrombus aimed at making thrombolytic therapy for venous thrombosis effective, yet safer, less expensive, and simpler than currently available regimens. These studies have demonstrated that effective thrombolytic therapy can be provided by injecting tissue plasminogen activator (r-tPA or alteplase) directly into thrombus only once a day, without the need for continuous infusion therapy. This permits outpatient regimens for treating upper extremity or central venous thrombosis, and allows for improved safety of thrombolytic therapy by decreasing the duration of systemic exposure to circulating thrombolytic agents. Dr. Chang's special research interests continue to be in improving the diagnosis and localization of endocrine tumors, as well as treatments for venous thrombosis.
Biography
Dr. Chang earned his medical doctorate from the Johns Hopkins School of Medicine in 1976. After a medical internship at St. Luke's Hospital in New York City, he returned to Johns Hopkins Medical Institutions to complete residency training in diagnostic radiology, and then joined the faculty there as a staff member in Interventional Radiology, where he worked for the ensuing five years providing patient care and training residents and fellows. In 1985 Dr. Chang joined the Radiology Department at NIH to work with Dr. John L. Doppman, a world-renowned radiologist and then Chief of the Radiology Department at NIH. Under the guidance of Dr. Doppman and with his instruction, collaboration, and support, Dr. Chang acquired additional experience and expertise in endocrine localization studies, and spinal arteriography, which were essential parts of clinical research programs at NIH. These programs have been so successful that the NIH Clinical Center serves as a national and international resource for patients with small endocrine tumors that could not be localized elsewhere. Dr. Chang was appointed Chief of the Interventional Radiology Section in 1993. In addition to providing venous access device placements, drainage procedures, and biopsies to support NIH protocols, Dr. Chang provides special expertise to the Clinical Center.
Related Scientific Focus Areas
---
This page was last updated on May 1st, 2013