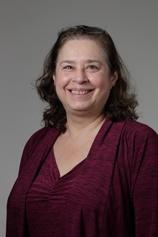 Pauline Mendola, Ph.D.
Investigator
Epidemiology Branch
NICHD/DIPHR
6710B 3119
20892-7004
301-496-5267
Research Topics
The Impact of Maternal Chronic Disease on Pregnancy with a Particular Focus on Asthma and the Immunology of Pregnancy
The burden of maternal chronic disease in the obstetric population is high and it continues to increase as advanced maternal age and overweight become more prevalent. Maternal asthma is the most common chronic disease in pregnancy and Dr. Mendola's research is focused on the interplay of immune function (asthma, allergy, maternal-fetal tolerance), oxidative stress and air pollution in relation to preterm delivery, fetal growth restriction and other complications of pregnancy. She is the principal investigator of the B-WELL-Mom study (Breathe- Wellbeing, Environment, Lifestyle and Lung function). B-WELL-Mom examines changes in asthma symptoms/control over the course of pregnancy and postpartum, comparing lung function and immune markers for asthmatic and non-asthmatic women in relation to air pollution, dietary antioxidants, and allergies. The primary specific aims of our research are: 1) To assess whether atopy status, measured by total IgE at enrollment, predicts asthma control variability during pregnancy; 2) To evaluate whether atopy status is associated with additional decrements in lung function and increased inflammation in pregnancy among women with asthma after considering the role of atopy in function among non-asthmatics; 3) To evaluate the impact of Treg levels and it's regulation by Foxp3 on asthma control variability during pregnancy; and 4) To evaluate changes in lung function and inflammation in all women associated with exposure to poor ambient air quality (traffic, commuting, ambient measures) and potential mediation by dietary antioxidants.
Biography
Dr. Mendola earned a Ph.D. in Epidemiology and Community Health from the University at Buffalo in 1994. She joined the Eunice Kennedy Shriver National Institute of Child Health and Human Development (NICHD) intramural program in May 2011 after serving as the Chief of the Infant, Child and Women's Health Statistics Branch at the National Center for Health Statistics (NCHS, 2007-2011) and Chief of the Epidemiology and Biomarkers Branch of the National Health and Environmental Effects Research Laboratory of the United States Environmental Protection Agency (EPA, 2005-2007). Throughout her career, Dr. Mendola's research has focused on environmental factors that impact pregnancy. Her current work on asthma during pregnancy builds on her previous efforts to investigate the impact of poor air quality on pregnancy outcomes.
---
This page was last updated on August 4th, 2017