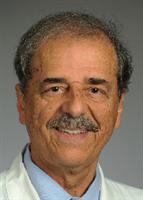 Nicholas J. Patronas, M.D.
Scientist Emeritus
Radiology and Imaging Sciences
NIH Clinical Center
Building 10, Room 1C316X
10 Center Drive
Bethesda, MD 20892
301-402-5726
Research Topics
Early in his career, Dr. Patronas was involved in interventional neuroradiology. He described techniques for embolization of cerebral arteriovenous malformations and for occlusion of carotid cavernous fistulae. Later his attention turned towards Positron Emission Tomography (PET) scanning. He was one among several physicians of the NIH who recognized the usefulness of this method in the detection and characterization of brain tumors. Among his most important contributions in this field was the observation that PET was able to correlate the rate of glucose utilization of the brain tumor with survival. Patronas was also the first to recognize the usefulness of PET in separating enhancing lesions of the brain due to radiation necrosis from recurrent high grade gliomas. He also participated in the first publications of the abnormalities of FDG-PET scans found in patients with epilepsy and Alzheimer's disease.
Dr. Patronas is the author or co-author of more than 200 publications in peer review journals. In the 1990s he published one of the first studies in brain perfusion using dynamic MRI scanning and observed the differences in blood perfusion between gray and white matter and between low and high grade gliomas. He was also involved in early publications describing diffusion-weighted imaging. Among other important contributions are publications that described the pathophysiologic mechanism of Syringomyelia. More recently he explored a gradient echo technique in the diagnosis of microadenomas of the pituitary.
Biography
Dr. Patronas earned his medical degree at the University of Salonica, Greece. He completed a residency in diagnostic radiology at the University of Illinois Hospital and a fellowship in neuroradiology at Northwestern University. He has been board certified in diagnostic radiology since 1973 and has held a subspecialty certification in neuroradiology (CAQ) since 1995. He served as an assistant and associate professor in the Department of Radiology at the University of Chicago (1974-1981), and later as a professor of radiology at Georgetown University (1985-1992). Since 1992 Patronas has been working at the Clinical Center of the National Institutes of Health, where he established Neuroradiology as a separate section of Radiology, and has been its chief since. He is in charge of joint neuroradiology fellowship programs with Georgetown University, George Washington University, and the NIH.
Related Scientific Focus Areas
---
This page was last updated on May 1st, 2013