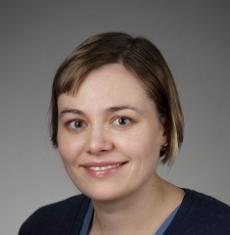 Nataliya P. Buxbaum, M.D.
Assistant Clinical Investigator
Experimental Transplantation and Immunotherapy Branch
NCI/CCR
Building 10, Room 3-3288
Bethesda, MD 20892-1203
240-760-6157
Research Topics
Dr. Buxbaum is elucidating the biology of immunologic events that underlie chronic graft-versus-host disease (cGVHD).   T cells are central to cGVHD pathophysiology. Through the use of stable water isotope labeling Dr. Buxbaum gained insight into differential in vivo behavior of key T cell subsets in the pre-clinical cGVHD model.  Dr. Buxbaum is now exploiting these biological differences to develop novel clinical imaging methods for cGVHD.  Furthermore, Dr. Buxbaum is working on identifying new therapeutic targets and treatments for cGVHD in the pre-clinical model that will be translated into clinical studies for patients affected by cGVHD.
Biography
Dr. Buxbaum first came to the NIH as a Howard Hughes Medical Institute (HHMI) research scholar in 2002.  She graduated from Rutgers Robert Wood Johnson Medical School in New Brunswick, NJ in 2005 and completed her residency in Pediatrics at Columbia Presbyterian, Children's Hospital of New York in 2008.  She then trained in Pediatric Hematology-Oncology through the Johns Hopkins and National Cancer Institute (NCI) combined fellowship. Dr. Buxbaum is board certified in Pediatrics (2009) and Pediatric Hematology Oncology (2013) and currently serves as an Assistant Clinical Investigator in the Experimental Transplantation and Immunology Branch, NCI.
Related Scientific Focus Areas

---
This page was last updated on March 12th, 2020