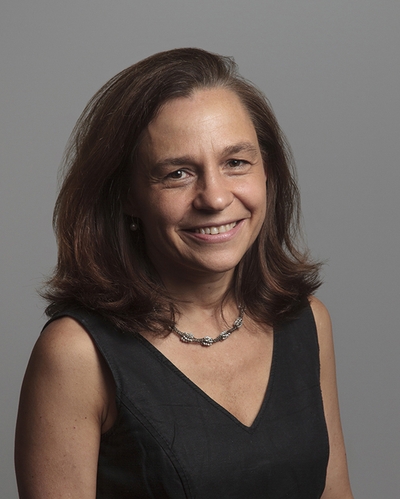 Montserrat García-Closas, M.D., Dr.P.H.
Senior Investigator
OFFICE OF THE DIRECTOR
NCI/DCEG
9609 Medical Center Drive
Room SG/7E342
Rockville, MD 20850
240-276-7150
Research Topics
Dr. García-Closas employs a multidisciplinary approach to identify biomarkers of breast and bladder cancer risk in combination with questionnaire-based information collected from large epidemiological studies. Specific areas of interest include:
Molecular characterization of tumors to identify exposure signatures and subtype-specific causes of cancer.
Identification of biomarkers of risk, including genetic and epigenetic changes.
Integration of biomarkers and other risk factors into cancer risk prediction models, and evaluation of their utility in risk stratification to inform personal and public health decisions.
Breast Cancer
In the study of breast cancer etiology, Dr. García-Closas is co-leader of large-scale molecular pathology studies within BCAC. She has contributed to the development of one of the largest, centralized collection of breast tumor tissue with detailed data on risk factors and clinical outcomes. This resource has revealed important tumor markers that delineate the etiologic heterogeneity of breast cancer. At the ICR, she co-led the Breakthrough Generations Study, a large prospective cohort study of over 110,000 women in the U.K. aimed at evaluating risk factors for breast cancer.
As an investigator in the ongoing international genotyping project, OncoArray, Dr. García-Closas seeks to identify inherited susceptibility loci associated with specific subtypes of breast cancer. OncoArray uses a custom microarray chip of 500,000 single nucleotide polymorphisms (SNPs) in over 100,000 breast cancer cases drawn from multiple studies from around the world.
In addition, she is one of the lead investigators in a large-scale project embedded in BCAC that will be characterizing thousands of breast tumors using targeted DNA sequencing and immunohistochemistry and in situ hybridization analysis. Through the study of how genetic and environmental risk factors, tumor features and clinical progression interrelate, this effort will provide critical information for the development and validation of integrated risk and prognostic models.
To identify novel biomarkers, Dr. García-Closas is also conducting an epigenetic-wide association study (EWAS) of breast cancer using pre-diagnostic DNA samples from the Prostate, Lung, Colorectal and Ovarian (PLCO) Study.
The ultimate goal of this research is to facilitate the development and implementation of targeted prevention and screening strategies for different types of breast cancer.
Bladder Cancer
Dr. García-Closas investigates the combined effects of genetic and environmental risk factors for bladder cancer. She published the definitive study of the interaction between smoking history and the NAT2 genotype, which is one of the few consistent gene-environment interactions described to date. She has made important contributions to the discovery of novel susceptibility loci for bladder cancer using genome-wide association studies (GWAS), an area where she continues to collaborate. In addition, she is engaged in an EWAS of bladder cancer in the PLCO Study to identify additional biomarkers of risk.
Biography
Dr. Montserrat García-Closas investigates the causes of cancer with the aim of improving risk assessment tools that can aid the development of targeted screening and risk reduction strategies for personalized prevention. She carries out a multidisciplinary research program on the molecular epidemiology of breast and bladder cancers, and has made important contributions to the understanding of genetic susceptibility and etiologic heterogeneity of these malignancies.
As Deputy Director for the NCI Division of Cancer Epidemiology and Genetics (DCEG) she focuses not only on her own research interests, but also on the management of the broad scientific program of the Division. She was appointed Acting Chief of the Genetic Epidemiology Branch in 2016.
Dr. García-Closas received her M.D. from the University of Barcelona, Spain, a Master of Public Health in quantitative methods, and a Doctorate of Public Health in epidemiology from the Harvard School of Public Health. She joined DCEG in 1996 as a postdoctoral fellow, became a tenure-track investigator in 1999 and a tenured senior investigator in 2007. From 2008-2010, she was a visiting scientist at the Department of Oncology and Strangeways Laboratory, Cambridge University, U.K. In 2010, she became a Professor of Epidemiology at the Division of Genetic and Epidemiology of the Institute of Cancer Research (ICR), University of London, U.K.
She is the recipient of several awards including two NIH Merit Awards, an NCI Intramural Research Award, and an NCI Mentor of Merit Award. She has also served in numerous expert committees including the American Association for Cancer Research (AACR) Molecular Epidemiology Working Group (MEG), the U.K. MEG and the Advisory Committee on NHS Breast Cancer Screening, England. She is a founder member of several large consortia, served as the Chair of the Coordinating Committee for the International Consortium of Case-Control Studies of Bladder Cancer from 2005-2011, and co-Chairs the Pathology and Survival Working Group of the Breast Cancer Association Consortium (BCAC), a major breast cancer consortium.
Related Scientific Focus Areas

---
This page was last updated on October 10th, 2019