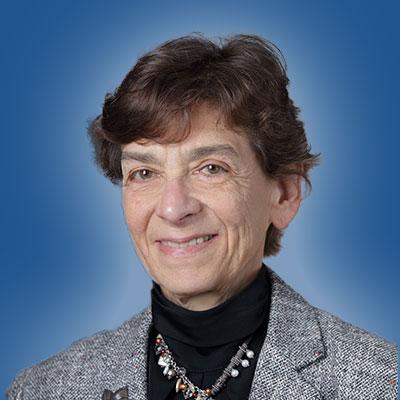 Martha J. Somerman, D.D.S, Ph.D.
Senior Investigator
Laboratory of Oral Connective Tissue Biology
NIAMS
Research Topics
The Laboratory of Oral Connective Tissue Biology aims to identify the factors controlling the development of the periodontal complex and to apply this knowledge toward developing strategies to regenerate periodontal tissues lost as a consequence of disease. Periodontal diseases and conditions cause destruction of the tooth attachment complex, including root cementum, periodontal ligament, and alveolar bone, leading to further complications including tooth loss. As candidate regenerative factors are identified, they are tested in vivo using periodontal disease rodent models and, ultimately, prepared for clinical trials.
A variety of approaches are taken, including in vitro cell and organ culture, transgenic animal models for studying gene function, in vivo models for studying periodontal repair and regeneration, and studies involving human subjects focusing on genetic disorders and pathologies affecting the dentoalveolar complex. These studies should provide greater insight on all hard and soft connective tissues, as well as help identify links between systemic conditions and the oral cavity.
Clinical objectives of the Oral Connective Tissue program include defining and understanding the function of genes, proteins, and factors regulating development, maintenance, and repair/regeneration of the dental-oral-craniofacial (DOC) complex. By fostering collaborations with clinical researchers at NIH, we aim to identify individuals that may exhibit conditions, disorders, and pathologies of tissues/cells associated with the DOC complex. Furthermore, we work with extramural researchers and clinicians to obtain data and samples from patients under approved protocols, and when appropriate, examine their patients at NIH. In certain cases, appropriate tissues/cells are obtained for histological and molecular analysis.
The lab's recent research has focused on:
Defining the role that phosphate and pyrophosphate metabolism play in modulating the physiology and pathology of the dentoalveolar complex.
Identifying and determining the role of extracellular matrix proteins and signaling molecules in the development of the tooth root and surrounding tissues.
Developing novel strategies for periodontal regeneration.
Determining genetic susceptibility and immunopathological mechanisms contributing to idiopathic tooth root resorption.
Examining individuals with mineralized tissue metabolism disorders to define the dental-oral-craniofacial phenotype.
Biography
Martha J. Somerman, D.D.S., Ph.D., has been director of the National Institute of Dental and Craniofacial Research (NIDCR) since August 2011. Prior to becoming NIDCR director, Dr. Somerman was dean of the University of Washington School of Dentistry, a position she had held since 2002. From 1991 to 2002, Dr. Somerman was on the faculty of the University of Michigan School of Dentistry where she served as a professor and chair of periodontics/prevention and geriatrics, and also held an appointment as professor of pharmacology at the School of Medicine. From 1984 to 1991, Dr. Somerman was on the faculty of the Baltimore College of Dental Surgery.
A native of Brooklyn, New York, Dr. Somerman received a bachelor's degree in biology and a D.D.S. from New York University, a master's degree in environmental health from Hunter College, and a Ph.D. in pharmacology from the University of Rochester. She completed her periodontal residency at the Eastman Dental Center in Rochester, New York.
Dr. Somerman has been a longstanding member of the NIH and NIDCR communities, having received her first NIH grant in 1987. In the early 1980s, she was a staff fellow in the dental institute's intramural research program. She served on the National Advisory Dental and Craniofacial Research Council from 1999 to 2002.
Related Scientific Focus Areas
This page was last updated on Friday, December 11, 2020