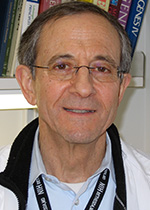 Lance R. Pohl, Pharm.D., Ph.D.
Scientist Emeritus
Molecular and Cellular Toxicology Section
NHLBI
Building 10, Room 8N110
10 Center Drive
Bethesda, MD 20814
301-451-1097
Research Topics
Drug-induced liver disease (DILD) is the leading cause of acute liver failure and a major reason for abandoning preclinical development, terminating clinical trials, and post-marketing withdrawals of therapeutics. Unfortunately, it is impossible to reliably predict which new drugs will cause DILD and who will be at risk of developing this disease. This is due in large part to the lack of reliable animal models in which the mechanisms and risk factors of DILD can be studied. Dr. Pohl's research aims to address this fundamental gap so that the mechanisms can be used to develop new approaches for identifying patients who are susceptible to DILD and for designing safer therapeutic agents.
Dr. Pohl has been particularly interested in the role of the innate and adaptive immune systems in the etiology of and susceptibility to DILD. His laboratory employs unbiased global genomics, proteomics, and bioinformatics approaches in susceptible and resistant strains of mice as well as targeted studies in genetically engineered murine models. Using these techniques, Dr. Pohl and his colleagues have discovered numerous potential susceptibility factors derived from cells of the innate and adaptive immune systems that either promote or control the incidence and severity of DILD. These factors include: interleukins-4, 6, 10, and 13; macrophage migration inhibitory factor; osteopontin; cyclooxygenase 2; Sirt3; eosinophil major basic protein; as well as others. Other recent findings from Dr. Pohl's laboratory suggest that microRNAs, alternative splicing events, and RNA editing may also contribute to the incidence of DILD.
DILD in many cases appears to be mediated by an adaptive immune system attack against hepatic proteins that have been covalently altered by the reactive metabolites of drugs. Most evidence supporting this mechanism comes from clinical findings such as associations with specific HLA class I and II MHC alleles and specific T cells and antibodies that react with hepatic protein targets of reactive metabolites. Dr. Pohl and his colleagues have developed the first murine model of this type of DILD, which has allowed them to investigate the molecular and cellular basis of this disease in greater detail. Their recent findings suggest that dysregulation of tolerogenic pathways in the liver predisposes mice to DILD mediated by the adaptive immune system.
Based on these and other studies, it appears that susceptibility to DILD is controlled by multiple competing protective and pathologic mechanisms whose regulation and dysregulation are likely determined by genetic, epigenetic, and environmental factors. Continued research using - omics technologies coupled with analysis of murine models may uncover patterns or key mechanisms related to specific drugs, which will enable improved drug design.
Biography
Lance Pohl received a B.A. in bacteriology from the University of California, Berkeley in 1966, and graduated with a Pharm.D. and Ph.D. from the University of California, San Francisco Medical Center in 1970 and 1975, respectively. He joined the NHLBI in 1974. He is a clinical associate professor in the Department of Anesthesia at the Georgetown University School of Medicine. He has authored or coauthored more than 150 papers. Dr. Pohl is a member of the American Association for the Advancement of Science, American Chemical Society, American Society for Pharmacology and Experimental Therapeutics, International Society for the Study of Xenobiotics, and Society of Toxicology.
Related Scientific Focus Areas
---
This page was last updated on January 3rd, 2013