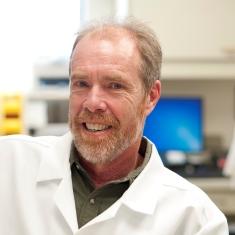 Kirk R. Gustafson, Ph.D.
Senior Scientist
Molecular Targets Program
NCI/CCR
Building 562, Room 201
Frederick, MD 21702-1201
301-846-5197
Research Topics
The NCI maintains a repository of natural product extracts that is the largest and most diverse in the world. These extracts, derived from terrestrial, marine and microbial organisms, constitute a unique source of chemical diversity for the discovery of compounds that can interact with specific molecular targets associated with human cancer. We are utilizing high throughput screening technologies to help identify compounds and extracts that can specifically interact with or modulate the function of selected biochemical targets or processes. Bioassay-guided chemical fractionation of natural products extracts is employed to isolate and purify the individual bioactive compounds. Identification and structural characterization of these compounds provides new structural classes or molecular scaffolds for the development of potential drug leads or biological probes which can interact with the desired molecular target. In addition to extensive spectroscopic analyses, our efforts include rigorous evaluation of a new compound's potency, molecular target specificity, and mode of action.
Biography
Dr. Gustafson earned his Ph.D. in organic chemistry from the University of British Columbia in 1984 under the direction of Professor Raymond J. Andersen. From 1984 to 1987 he worked as a postdoctoral fellow with Professor William Fenical at the Scripps Institution of Oceanography. He has a longstanding interest in the isolation, structural determination, and biological characterization of new secondary metabolites produced by terrestrial plants, marine organisms, and microbial isolates. Dr. Gustafson joined the NCI in 1987 and his studies have focused on utilizing the inherent chemical diversity found in natural product sources to help discover new compounds which can serve as biochemical probes or drug leads relevant to cancer and other human diseases.
Related Scientific Focus Areas

---
This page was last updated on September 12th, 2019