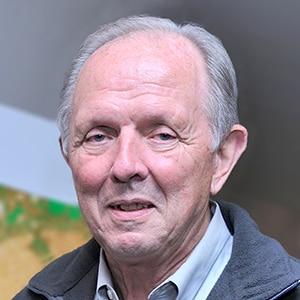 James Edward Balow, M.D.
Senior Investigator
Kidney Diseases Branch
NIDDK
Clinical Director
NIDDK
Building NIHBC 10 - CRC, Room 5-2553
10 Center Dr
Bethesda, MD 20892
+1 301 496 4181
Research Topics
The focus of our research is the natural history, pathogenesis, and treatment of immunologically mediated glomerular diseases, particularly lupus nephritis and membranous nephropathy. Previous findings from our research section have demonstrated that intermittent pulse cyclophosphamide therapy has the highest therapeutic index among currently available immunosuppressive drug therapies in the treatment of proliferative forms of lupus nephritis.
In light of the intrinsic risk of gonadal toxicity of pulse cyclophosphamide therapy, we are conducting studies designed to examine the efficacy and toxicity profile of alternative immunomodulating agents, particularly monoclonal antibodies, such as rituximab, calcineurin inhibitors, signaling pathway inhibitors, and antimetabolite drugs.
Recent clinical research of our group has been focused on primary membranous nephropathy, a chronic, autoimmune glomerular disease caused by autoantibodies to constitutive antigens of the capillary wall podocytes.  Membranous nephropathy is manifested by protracted edema due to nephrotic proteinuria and is associated with substantive morbidity from secondary cardiovascular disease and progressive loss of renal function.  Most treatment regimens used in the clinic have been only partially efficacious, often of limited long-term effectiveness, and associated with intrusive side effects.
Our group has recently completed a pilot study examining the effects of a novel immunosuppressive drug regimen combining cyclosporine and the monoclonal antibody, rituximab, for treating primary membranous nephropathy.  This regimen targets both the T-cell and B-cell limbs of the immune system, both of which contribute to the autoimmune pathogenesis of this disease.  Induction therapy included combination of rituximab and cyclosporine for 6 months, followed by a maintenance phase of additional doses of rituximab while tapering cyclosporine to discontinuance over several months.  Sustained remissions of proteinuria occurred at higher rates than historical controls.  Parallel decreases in titers of autoantibodies to glomerular antigens supported the postulated mechanism of action for the effects of this combination therapy.  [Citation:  Waldman M, Beck LH, Braun M, Wilkins K, Balow JE, Austin HA III.  Membranous nephropathy: pilot study of a novel regimen combining cyclosporine and rituximab. KI Reports 2016; 1:73-84]
Need for Further Study
Our pilot study of the novel regimen of cyclosporine and rituximab has yielded results that suggests that this therapeutic strategy may have improved efficacy over most conventional treatments for membranous nephropathy.  However, our results must be viewed as preliminary and will require validation in randomized clinical trials.  Our pilot study data will inform both the design and power calculations for these prospective, randomized clinical trials.
Biography
Clinical Immunology Fellowship, NIAID, NIH, 1972-1975
Internal Medicine and Nephrology Fellowships, Georgetown University, 1969-1972
M.D., University of Minnesota, 1968
B.S., College of St. Thomas, 1964
Related Scientific Focus Areas
---
This page was last updated on October 14th, 2021