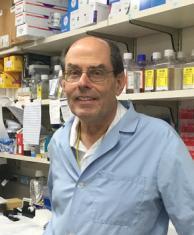 Howard A. Young, Ph.D.
Senior Investigator
Laboratory of Cancer Immunometabolism
NCI/CCR
Building 560, Room 31-23 (Office)
Frederick, MD 21702-1201
301-846-5743/5700
Research Topics
The laboratory studies the control of gene expression during the development and maturation of the cellular immune system in mediating antitumor and anti-inflammatory immune responses. The general goals are to use cellular and molecular approaches to investigate the consequences of persistent exposure to interferon-γ (IFN-γ) and how it alters host physiology. To approach this question, we have generated a novel mouse model where a portion of the 3' untranslated region of the mRNA has been changed, resulting in a much more stable mRNA and this will now permit us to understand the consequences of persistent IFN-γ expression on the host. We have backcrossed this change onto the murine C57BL/6 and Balb/c genetic backgrounds and as a consequence have developed new mouse models for lupus, primary biliary cholangitis and aplastic anemia. These mice are characterized by low but chronic IFN-γ expression. As a result there is persistent upregulation of IFN-γ inducible genes, resulting in the development of autoimmunity. Overall, our studies represent a cellular and molecular analysis of the consequences of aberrant regulation of cytokine gene expression in lymphoid cells and the effects on the host physiology and immune system development and function. Our studies provide a basis for developing a more complete understanding of the effects of IFN-γ expression during the pathogenesis of autoimmune diseases, cancer and infection and offer a model system for developing treatments to prevent or block disease progression.
Our collaborators include NCI investigators Giorgio Trinchieri, Dan McVicar, Dennis Klinman, and David Wink. In addition we have collaborations with Dr. Monika Wolters (The Netherlands) and Dr. Guozhen Liu (Australia)
Biography
Dr. Howard Young obtained his Ph.D. in microbiology at the University of Washington and carried out postdoctoral research at the NCI under Drs. Edward Scolnick and Wade Parks. He was a member of the Laboratory of Molecular Immunoregulation at NCI from 1983 to 1989 prior to joining the Laboratory of Experimental Immunology in 1989. He was President of the International Society for Interferon and Cytokine Research (2004-2005) and served as Chair of the Immunology Division of the American Society for Microbiology. He has also served as Chair of the NIH Cytokine Interest Group and Co-Chair and then Chair of the NIH Immunology Interest Group. He is a three-time recipient of the NIH Director's Award for Mentoring (2000, 2006, 2018) and in 2006 he received the National Public Service Award.
Related Scientific Focus Areas
---
This page was last updated on November 22nd, 2019