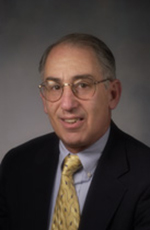 Harvey G. Klein, M.D.
Senior Investigator
Transfusion Medicine Department
NIH Clinical Center
Research Topics
Dr. Klein is known nationally and internationally for his expertise in blood transfusion. He is widely published on such topics as transfusion-transmitted disease, adverse effects of blood transfusion, and the impact of biotechnology on transfusion medicine. He co-authored the eleventh edition of Mollison's textbook, Blood Transfusion in Clinical Medicine, and has held editorial roles with several publications, including Blood, Transfusion, Transfusion Medicine Review, and the Journal of Clinical Apheresis. He has an extensive list of professional activities that includes serving on the Institute of Medicine Blood Safety Forum, the Secretary's Advisory Committee on Blood Safety and Availability, the WHO Committee on Standardization, and the FDA Blood Products Advisory Committee; chairing the US Pharmacopoeia Blood and Blood Products Committee and the American Red Cross Medical Advisory Committee; and serving as president of the American Association of Blood Banks and the National Marrow Donor Program Council.
Biography
Dr. Klein graduated magna cum laude from Harvard College and earned his medical degree from Johns Hopkins School of Medicine. After an internship, residency and fellowship in hematology at Hopkins, he came to the National Institutes of Health in 1973, becoming chief of the Clinical Center's Department of Transfusion Medicine in 1983. He maintains his ties with Hopkins as a visiting professor in pathology and medicine.
Related Scientific Focus Areas
This page was last updated on Wednesday, May 1, 2013