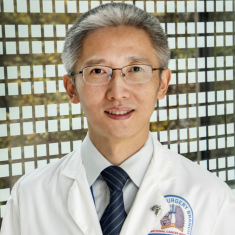 Haobin Chen, M.D., Ph.D.
Assistant Clinical Investigator
Thoracic Surgery Branch
NCI/CCR
Building 10-CRC, Room 3-5848 Bethesda, MD 20892
240-760-6177
Research Topics
Small cell lung cancer (SCLC) is a deadly disease and represents 12-15% of all lung cancers. Little progress has been made in its treatment over the past 30 years. Some obstacles against progress are limited systemic treatment options and rapid development of drug resistance. There is an unmet need to understand resistance mechanisms and to develop novel therapies for SCLC.
Gene expression is controlled by epigenetic machinery in cells. Epigenetic therapy targets critical epigenetic machinery in cancer cells to restore normal gene expression and to stop cancer growth. BET bromodomain proteins are emerging epigenetic targets. The use of small molecule inhibitors to target this family of proteins has generated many promising results in liquid tumors, but this approach has not been tested in solid tumors. One of the focuses of my research is to identify which SCLC patients will benefit from this novel epigenetic therapy. The other focus of my research is to uncover drug resistance mechanism in SCLC by using a genome-wide high throughput screening approach.
Biography
Dr. Chen received his M.D. and M.S. from Shanghai Medical University in China, and his Ph.D. degree from New York University (NYU). He was a research assistant professor at NYU for 4 years, and then completed an internal medicine residency at the Kingsbrook Jewish Medical Center in Brooklyn, NY. He joined the NCI Medical Oncology Branch as a clinical fellow in 2013. He is currently an assistant clinical investigator in the Thoracic and Gastrointestinal Oncology Branch.
Related Scientific Focus Areas
---
This page was last updated on June 21st, 2021