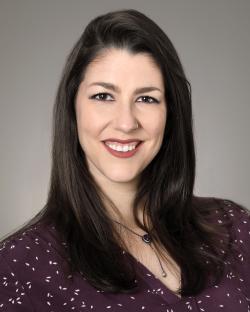 Emily E. Ricotta, Ph.D., M.Sc.
Independent Research Scholar
Epidemiology and Data Management Unit
NIAID/DIR
Research Topics
Dr. Emily Ricotta is an Independent Research Scholar in the Division of Intramural Research at the National Institute of Allergy and Infectious Diseases, where she leads the Epidemiology and Data Management Unit (EDMU). The EDMU focuses on risk factors and transmission of infectious diseases of public health importance as well as the standardization of protocols for study development and data management of nonrandomized, clinical cohort studies to enhance the efficiency and reproducibility of infectious disease research, particularly during emerging infectious disease outbreaks.
Nonrandomized, observational population studies play a critical role in evaluating health outcomes after exposures of interest such as an infectious disease, an immune disorder, or a particular medical intervention. The strength of these studies is that, when well-designed and executed, they can be more representative of the exposure mechanism and population under study than a randomized control trial (RCT), which is considered the gold standard of medical research. However, while efforts have been made to standardize RCT protocols during infectious disease outbreaks, and for disease treatment in general, protocol standardization of nonrandomized studies is currently lacking. This results in missed opportunities for data and sample collection arising from slow start-up due to regulatory issues or disorganization, especially during emergent situations such as infectious disease outbreaks like Ebola or COVID-19, and problems with the data that is collected. The Epidemiology and Data Management Unit therefore aims to create and implement master protocols that share key elements of study design, thus improving data collection in observational studies and increasing the utility of existing data collection efforts.
The Epidemiology and Data Management Unit also leads and collaborates on studies involving understanding risk factors and transmission of infectious diseases, including leading NIAID's study evaluating the immune response to COVID-19 vaccines in individuals with immune disorders. The members of the EDM Unit are available to collaborate on infectious disease-related studies from design through data analysis.
Biography
Dr. Emily Ricotta received her Ph.D. in epidemiology in 2018 from the Swiss Tropical and Public Health Institute at the University of Basel where her research focused on how human behavior impacts the uptake and use of malaria prevention methods, specifically bed nets. Her M.Sc. in molecular microbiology and immunology was awarded in 2012 by the Johns Hopkins Bloomberg School of Public Health for her work on household-level risk factors for malaria transmission. Dr. Ricotta has over fifteen years of research experience in epidemiology and molecular microbiology working with a variety of human pathogens and has participated in global public health program monitoring and evaluation, policy development, and scientific advocacy. In addition to research, she teaches epidemiology, biostatistics, and clinical research methods to graduate students at George Washington University. In March 2019, she was selected to become an Emerging Leaders in Biosecurity Initiative Fellow by the Johns Hopkins Center for Health Security.
Related Scientific Focus Areas
This page was last updated on Friday, August 25, 2023