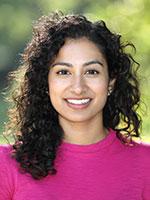 Elizabeth Martin, Ph.D.
Independent Research Scholar
Epigenetics and Stem Cell Biology Laboratory / Epigenetic Responses to Environmental Exposures Group
NIEHS
Research Topics
Dr. Martin's research program focuses on epigenetic reprogramming in response to environmental exposures, and the role that transcription factors play in this process. This research seeks to understand maternal breast development during pregnancy and whether aberrant epigenetic reprogramming induced by the phthalate DEHP, through its interaction with progesterone receptor, can result in an increased risk of developing breast cancer later in the mother's life. Her research fills an important gap by addressing whether disruption of later life windows of development by environmental exposures can result disease.
Biography
Dr. Martin received her Ph.D. in Environmental Science and Engineering from the Gillings School of Global Public Health at the University of North Carolina Chapel Hill under Dr. Rebecca Fry, where she worked to understand metabolic alterations in response to arsenic exposure, as well as sexually dimorphic prenatal exposure responses. During her doctoral studies, she was the recipient of the Karen Wetterhahn Memorial Award from the NIEHS Superfund Research Program. Following this she was a postdoctoral researcher in the UNC Curriculum in Toxicology, under the direction of Dr. Shaun McCullough, where she investigated how epigenetic markers can influence susceptibility to air pollution. Elizabeth was a fellow in Dr. Paul Wade's lab at NIEHS where she investigated the role of progesterone receptor activity in epigenetic reprogramming and breast cancer risk. As an NIEHS trainee, she applied for and received a Postdoctoral Research Associate Training (PRAT) Program fellowship sponsored by the National Institute of General Medicine (NIGMS). She was then selected for the NIH Independent Research Scholar Program that has allowed her to start her own lab.
Related Scientific Focus Areas
This page was last updated on Wednesday, May 11, 2022