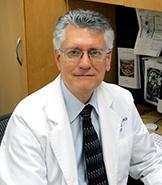 Dean D. Metcalfe, M.D., M.S.
Senior Investigator
Mast Cell Biology Section
NIAID/DIR
4 Memorial Drive, Room 228B
Bethesda, MD 20814
301-761-6780
Research Topics
The mast cell is the focus of the Mast Cell Biology Section (MCBS) research effort. This multifunctional inflammatory cell is involved in both innate and acquired immunity and plays a central role in the induction of allergic inflammation. An integrated program investigating mast cell biology includes studies into the growth and differentiation of mast cells, mast-cell signal transduction, and the products generated by mast cells that lead to disease. The MCBS program emphasizes basic research that may be translated into the clinic, where protocols include studies on the pathogenesis of urticaria, anaphylaxis, and clonal mast cell disorders. Research efforts have contributed to the identification of mutations in mast cell disease, understanding signaling through KIT and the high affinity IgE receptors, and how alterations in the control of mast cell mediator production affect human disease.
Biography
Dr. Metcalfe received his M.D. at the University of Tennessee and an M.S. in microbiology at the University of Michigan, where he also did a residency in internal medicine. Dr. Metcalfe then trained in allergy and immunology during a fellowship at NIAID, followed by training in rheumatology while a fellow in immunology at the Robert Brigham Hospital in Boston. In 1995, he was appointed as the first chief of the newly created Laboratory of Allergic Diseases at NIAID. He is a past president of the American Academy of Allergy, Asthma, and Immunology, and a past chair of the American Board of Allergy and Immunology. Dr. Metcalfe is a Fellow of the American Academy of Allergy, Asthma, and Immunology and a member of the Association of American Physicians, Collegium Internationale Allergologicum, and American Clinical and Climatological Association.
---
This page was last updated on August 5th, 2020