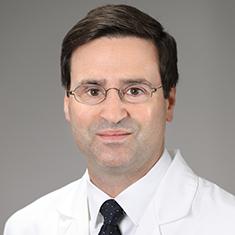 Christian S. Hinrichs, M.D.
Senior Investigator
Genitourinary Malignancies Branch
NCI/CCR
Building 10, Room 4B04
Bethesda, MD 20892
240-760-6059
Research Topics
Cellular Therapy for Cancer
Dr. Hinrichs conducts basic and clinical research to discover and develop novel T cell therapies for the treatment of patients with cancer. This work includes a clinical trial of human papillomavirus (HPV)-targeted tumor-infiltrating T cells for patients with HPV+ cancers, which has demonstrated that this treatment can mediate complete regression of cervical cancer in some patients. Dr. Hinrichs' laboratory also has discovered genes for T cell receptors that target HPV, and his group is testing new gene therapy treatments based on these receptors for patients with advanced HPV+ tumors.
Biography
Dr. Hinrichs received his B.A. and M.D. degrees from the combined 6-year program at the University of Missouri - Kansas City (UMKC). He trained in general surgery at UMKC and in surgical oncology at Roswell Park Cancer Institute. He then completed a surgical oncology and tumor immunology fellowship at the National Cancer Institute (NCI). Subsequently he trained in internal medicine at George Washington University and in medical oncology at the Medical Oncology Branch of the NCI. He was awarded tenure at NIH in 2020. Dr. Hinrichs conducts basic research and clinical research to develop T-cell therapies for HPV-associated cancers and other epithelial malignancies.
Related Scientific Focus Areas

---
This page was last updated on September 17th, 2020