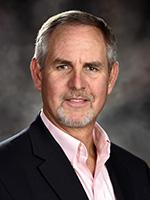 Brian Berridge, D.V.M., Ph.D., D.A.C.V.P.
Senior Scientist
National Toxicology Program
NIEHS
Scientific Director
NIEHS/DTT
Research Topics
The National Toxicology Program (NTP) is a federal interagency program housed at NIEHS. As Associate Director of NTP, I provide policy, analytical, and scientific leadership, as well as being involved in planning, managing, and coordinating all of NTP's internal and external activities. I aim to ensure that the NTP continues to support the NIH public health mission by building and applying the most effective scientific methods available.
I will assist the NTP as it capitalizes on 21st century toxicology methods, including translationally-relevant animal studies; cell, tissue and organ-based in vitro methods; informatics; and data intensive computational modeling. I will guide NTP products, such as the congressionally mandated Report on Carcinogens, which currently lists 248 cancer-causing agents, and scientific literature reviews on topics that are nominated to NTP. I will also help oversee toxicological studies on contemporary topics of public health concern, such as environmental chemical contaminants, food additives, herbal products and other substances not covered by current regulatory requirements.
Biography
Berridge began his career in pathology while on active duty in the U.S. Air Force. He completed his veterinary degree at Oklahoma State University followed by a pathology residency and PhD at Texas A&M. He is board certified by the American College of Veterinary Pathologists. As a postdoctoral fellow, Berridge studied human cardiovascular devices and diseases in animals to inform treatment of human cardiovascular disease at the Texas Heart Institute in Houston. He held roles as a toxicologic pathologist and cardiovascular safety expert at Eli Lilly and GlaxoSmithKline (GSK). During his time as director of Worldwide Animal Research Strategy at GSK, he led efforts to improve animal and nonanimal methods for testing pharmaceuticals. He has contributed this expertise to the federal Scientific Advisory Committee on Alternative Toxicological Methods since 2015.
He previously served as an adjunct faculty member in the Department of Population Health and Pathobiology in the North Carolina State College of Veterinary Medicine, where he mentored graduate students. He has also lectured on animal modeling at Duke University and teaches cardiovascular toxicology at the University of North Carolina at Chapel Hill.
Related Scientific Focus Areas
This page was last updated on Friday, September 16, 2022